Following earlier demonstrations at CES 2018, Qualcomm introduced a series of new platforms, SoC and development kits targeting new advanced audio applications and smart speakers, including the support of key wireless technologies, voice and cloud ecosystems. Solutions include its Smart Audio Platform optimized for smart speakers, a 6-microphone far field voice platform qualified for Amazon AVS, Dolby Audio implementations for wireless speakers and much more.
Providing technologies and complete development solutions for manufacturers based on Qualcomm's key platforms has been one of the focus for the San Diego company in the last two years. With market requirements for smart speakers now high on the priority list, Qualcomm has accelerated the introduction of development platforms for all market needs. This includes platforms with support for Alibaba AI Voice, Amazon Alexa, Baidu DuerOS, Google Assistant, and Microsoft Cortana.
Originally
announced in June 2017
, Qualcomm's Smart Audio Platform was designed to help manufacturers accelerate the development and commercialization of smart and networked speakers. The flexible solution offers two Qualcomm SoC options based on APQ8009 and APQ8017, with a range of software configurations that are designed to allow OEMs to create truly optimized smart speakers across various product tiers and categories. The integrated platform brings together a unique combination of processing capability, connectivity options, voice user interfaces and premium audio technologies to help meet increasing consumer demand for comprehensively featured, highly intuitive smart speakers.
Qualcomm's smart speaker development kits based on the Qualcomm Smart Audio Platform are supposed to be available through its authorized distribution channels in the first quarter of 2018. The development kits are engineered to help developers and audio manufacturers simplify the development of smart speaker products, at a range of price points, thereby helping them take advantage of the commercial opportunities presented by this rapidly growing ecosystem.
The Smart Audio Platform is a highly flexible solution engineered to bring together a unique combination of processing power, connectivity options, voice user interfaces and premium audio technologies. The platform is designed to be a unique end-to-end single-vendor smart speaker solution integrating Qualcomm's unique and powerful processing, as well as proprietary audio technologies engineered for high resolution audio, networked audio, echo cancellation, beamforming, noise suppression and barge-in wake-word detection. With support for both Linux and Android Things operating systems, as well as voice services from major cloud providers, the Smart Audio Platform offers manufacturers a variety of choices to help them participate in the growing smart speaker opportunity.
Built on the Smart Audio Platform, the development kit features a Wi-Fi certified System-on-Module (SoM) that integrates the key system components, helping to reduce development time and overall design cost. The kit also includes schematics and design files to support easier customization and differentiation in the manufacturers' products. Manufacturers can use a single design for different SKUs with varying operating systems and capabilities, which helps to improve cost efficiency and reduce development time.
"By providing the rich feature capabilities of our Smart Audio Platform and integrated into this development kit, we are helping to streamline development for manufacturers looking to build smart speaker devices more efficiently," says Anthony Murray, senior vice president and general manager, voice and music, Qualcomm Technologies International, Ltd. "Our platform and kit help manufacturers seeking to design products at a variety of price points to reduce development time and create smart speaker products that include the complex connectivity, premium audio and voice capabilities that consumers now expect."
Additionally, the development kit offers a reference design for smart speaker devices. This reference design features a six-microphone array and speaker housing to support far-field voice interface and high-performance wake-word detection – including barge-in capabilities supported by echo cancellation technology, pre-tuned to the hardware. The speaker housing is designed for a rich 360-degree sound experience.
The Qualcomm Smart Audio Platform offers integrated Hi-Fi audio playback and post-processing algorithms for premium sound quality, Qualcomm AllPlay multi-room and multi-channel networking solution for whole-home synchronized audio streaming, and advanced application processing capabilities for a customizable and responsive user experience.
Other key features of the Qualcomm Smart Audio Platform include a quad-core ARM A53 processor and integrated Qualcomm Hexagon audio DSP, dual band 802.11ac Wi-Fi (1x1 and 2x2 options), Bluetooth 4.2 + Bluetooth Low Energy (BLE) with support for key profiles such as A2DP source/sink, AVRCP, SPP, HFP, PAN, NAP, AVCTP, AVDTP, PBAP, RSP / Wake on BLE, and high-performance audio encode/decode with Qualcomm aptX and aptX HD. Audio playback supports a wide range of industry audio codecs including MP3, AAC, OggVorbis, FLAC, AIFF, WAV, PCM, ALAC, with high-performance Bluetooth/Wi-Fi coexistence for optimal audio performance.
Google, Alexa and Cortana
At CES 2018, Qualcomm confirmed support for Android Things, the Google Assistant, Google Cast for audio and other Google services on the Qualcomm Smart Audio Platform. The solution is designed to allow original equipment manufacturers (OEMs) to more easily create differentiated smart speakers featuring support for the rich voice interaction of the Google Assistant across various product tiers and categories. The integrated platform is designed to bring together a unique combination of processing capability, connectivity options, voice user interfaces and premium audio technologies to help meet increasing consumer demand for comprehensively featured, highly intuitive smart speakers.
With the help of Google Cast for Audio, users are able to stream the music they love from mobile devices to smart speakers throughout home. Among OEMs who launched products based on the Qualcomm Smart Audio Platform at CES 2018, LG showcased its LG ThinQ Speaker which comes with Google Assistant built-in.
Qualcomm Releases Industry-First Smart Speaker Platform Supporting Microsoft Cortana
Qualcomm's Smart Audio Platform also supports Microsoft Cortana. The platform integrates the hardware and software required to help OEMs developing smart speakers with support for the intelligent digital assistance provided by Microsoft. The Qualcomm Smart Audio Platform with support for Cortana is expected to be generally available in the first half of 2018.
Qualcomm also announced that the Qualcomm Smart Audio Platform has been qualified by Amazon for the Alexa Voice Service (AVS). The reference platform, now in production, incorporates the hardware and software building-blocks required to facilitate rapid commercialization of smart speaker and networked audio solutions, and it is the first announced fully end-to-end audio processing and system reference design for AVS from a single vendor.
Development Kits for Connected Products
At the 2018 Mobile World Congress, in Barcelona (Spain), and Embedded World 2018, in Nuremberg (Germany), Qualcomm introduced its new highly integrated development kits based on QCA4020 and QCA4024 system-on-chips (SoCs - https://developer.qualcomm.com/qca402x), designed to help developers and device manufacturers create unique connected products that work in concert with a wide variety of other devices and cloud ecosystems. These specific kits are designed for all sort for connected applications in smart cities, toys, home control and automation, appliances, networking and all types of home entertainment devices. The kits provide interoperability among diverse devices including popular wireless standards, protocols and communication frameworks, and ease connectivity to various cloud and application services.
The QCA4020 is a tri-mode intelligent connectivity solution with advanced smart coexistence, integrating numerous wireless communication technologies into a single SoC, a proven approach to address fragmentation in many technology areas. It combines the latest specifications of Wi-Fi, Bluetooth Low Energy 5 and 802.15.4 based technologies, including ZigBee and Thread, while the QCA4024 integrates Bluetooth Low Energy 5 and 802.15.4 based technologies, including ZigBee and Thread. The integration of these multiple radios is designed to allow the development of products capable of understanding and translating information in environments using disparate wireless technologies – such as a smart home where light bulbs and switches use ZigBee, speakers communicate via Bluetooth, and TVs and thermostats communicate via Wi-Fi.
QCA4020 and QCA4024 also feature dual core processing, integrated sensor hub, and a high degree of software flexibility to support multiple protocols, connectivity frameworks and cloud services. Both SoCs come with pre-integrated support for HomeKit and the Open Connectivity Foundation (OCF) specifications, as well as support for Amazon Web Services (AWS) IoT services software development kit (SDK) and Microsoft Azure Internet of Things (IoT) Devices SDK to connect with Azure IoT Hub and integrate with services like Azure Machine Learning, Azure Time Series Insights and more.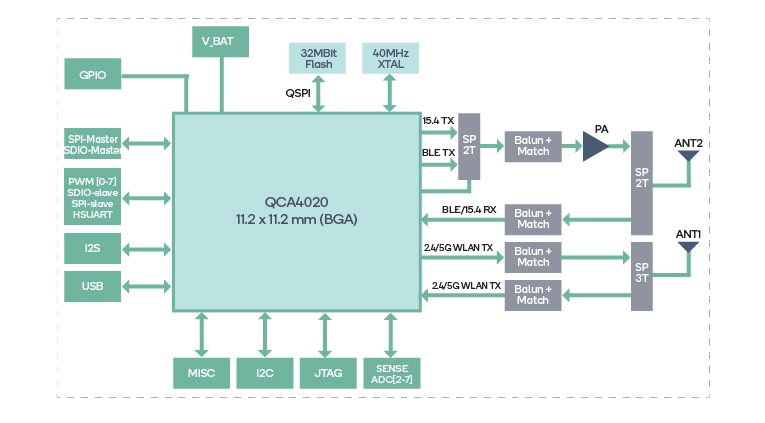 Additionally, both solutions have advanced hardware-based security features to help improve device protection in ways not possible with just software. Security capabilities include secure boot from hardware root of trust, trusted execution environment, hardware crypto engines, storage security, debug security with lifecycle control, key provisioning and wireless protocol security. This is all combined in a low power, cost-optimized single-chip solution. To facilitate the design with these SOCs, each development kit comes with reference modules, development boards and documentation.
At MWC 2018, Qualcomm also introduced an integrated 2x2 802.11ax-ready solution for smartphones, tablets and notebooks, bringing the most critical features of 11ax to original equipment manufacturers (OEMs) in advance of full standardization and certification. The new WCN3998 solution for client devices will significantly increase security through support of the WPA3 security protocol, making Qualcomm the first company to implement advance security features in 11ax solutions. The WCN3998 will also enhance the Wi-Fi experience, by doubling the network throughput and reducing Wi-Fi power consumption by up to 67 percent, as compared to previous generation 11ac Wave-2 solutions.
Beyond traditional Wi-Fi networking, today's platforms are also increasingly differentiating on high quality audio and voice as a primary user interface. To intersect with these emerging needs, the Bluetooth core in WCN3998 has been completely re-engineered to support Bluetooth 5 and anticipate possible enhancements in the Bluetooth standard. When paired with a device based on the Qualcomm Technologies' QCC5100 Low Power Bluetooth SoC, it is designed to enable the next generation of "true wireless" Bluetooth headsets that eliminate wires, improve audio robustness and quality, improve the user experience, and improve battery life by up to 75 percent. The design supports Bluetooth Low Energy (LE), taking into consideration the ever increasing need for lower energy applications.
Qualcomm Broadcast Audio
Now Available on the Qualcomm Snapdragon 845 Mobile Platform, Broadcast Audio technology was designed to allow one Bluetooth source to stream audio to numerous headsets or speakers with near perfect synchronization. The technology is designed to support Bluetooth to be used for one-to-many sound broadcasting – helping to extend the capabilities of traditional Bluetooth. Qualcomm Broadcast Audio supports ad-hoc multi-speaker parties, sharing headphones and listening to the same music from a single smartphone, or for group audio tours.
Features of Qualcomm Broadcast Audio include a simpler set-up and pairing of devices with built-in robustness, automatic retransmission and packet-loss concealment, as well as encrypted audio stream designed to help reduce the risk of eavesdropping.
In addition to the Snapdragon 845 Mobile Platform, Qualcomm Broadcast Audio is also available on a range of Qualcomm Bluetooth Audio System-on-Chips (SoCs) including CSR8670, CSR8675, CSRA68100 and the
recently announced QCC5100 low power Bluetooth audio SoC Series
for wireless earbuds and hearables.
Software updates are available for users already developing products based on Qualcomm Bluetooth Audio SoCs, so Qualcomm Broadcast Audio can be added as a feature even post-sale on many products.
Mesh Networking Platform
Qualcomm also confirmed it is significantly expanding the capabilities and product applications for its Qualcomm Mesh Networking Platform and Reference Design. The company is enabling, through the integration of Qualcomm Aqstic and Microsoft's digital assistant Cortana, leading voice recognition capabilities in the platform to create virtually seamless voice-driven experiences in the home. Additionally, Qualcomm Technologies is expanding the range of products that support the Qualcomm Mesh Networking Platform, beyond networking infrastructure to include smart speakers, smoke detectors, security systems, and smart bulbs where manufacturers are leveraging the mesh networking platform to help create new and better-connected experiences.
The enhanced mesh networking platform and reference design, an all-Qualcomm Technologies' design, now fully integrates Qualcomm Aqstic (WCD 9340), supporting up to 6-mic beam forming and echo cancellation & noise suppression (ECNS), supporting high-quality audio and voice capture capabilities necessary to enable popular voice services. The Qualcomm Mesh Networking Platform also now integrates Microsoft's digital assistant Cortana, enabling mesh networking manufacturers to integrate Cortana's productivity capabilities like email and calendar management, and completing basic tasks: home automation, playing music and providing answers, news, weather and more.
ASUS recently announced the world's first voice-enabled mesh networking system, the ASUS Lyra Voice, a smart speaker and AC2200 Tri-Band Mesh WiFi Router with built-in Amazon Alexa, based upon the Qualcomm Mesh Networking Platform. Qualcomm is currently working with a number of technology companies, including Cognitive Systems Corp., Origin Wireless and Lunera to expand the use of mesh networking into many smart devices in the home.
www.qualcomm.com