Texas Instruments (TI) introduced the first operational amplifier (op amp) to combine ultra-high precision with the industry's lowest supply current. With exceptional power-to-precision performance, the LPV821 zero-drift, nanopower op amp enables engineers to attain the highest DC precision, while consuming 60 percent less power than competitive zero-drift devices. The LPV821 is designed for use in precision applications such as wireless sensing nodes, home and factory automation equipment, and portable electronics.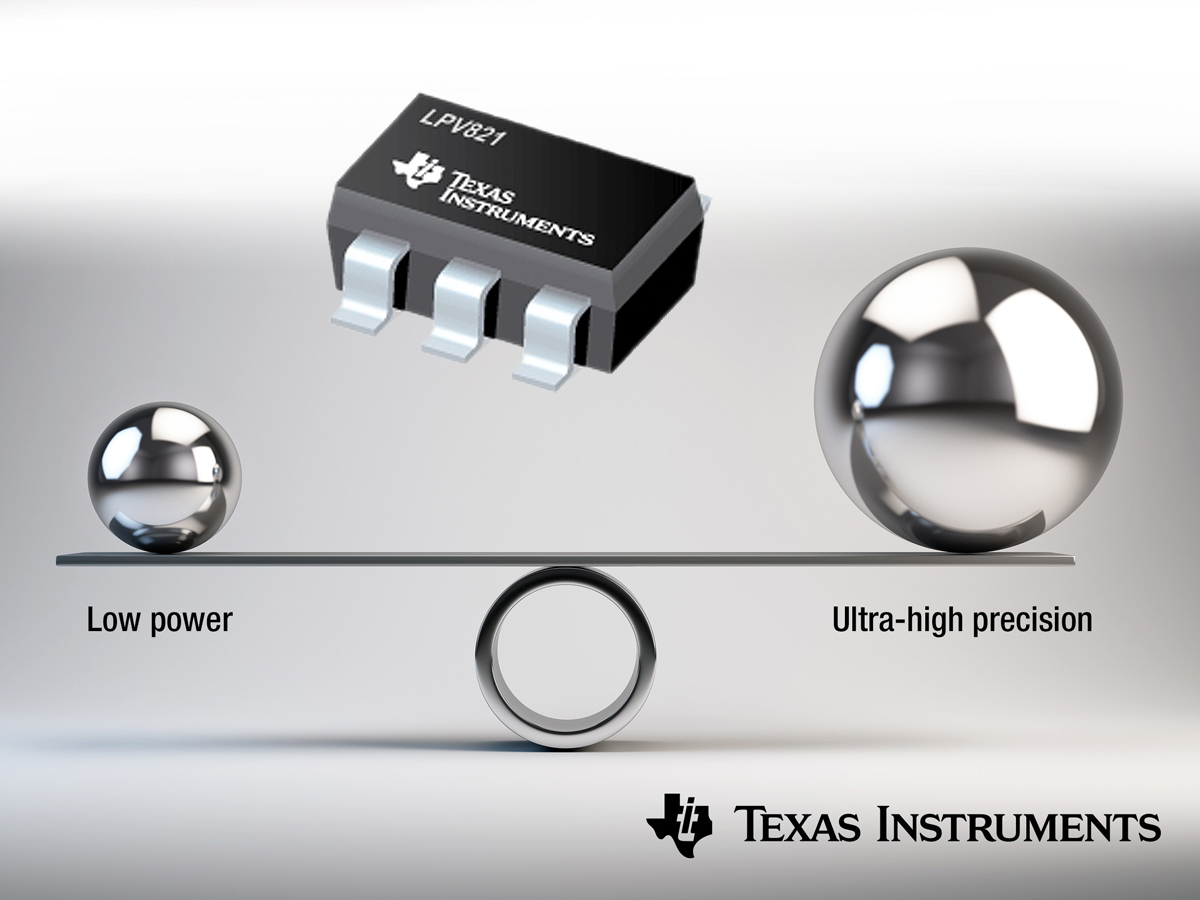 The LPV821 op amp is the newest device in TI's low-power amplifier portfolio, which enables lighter, smaller and more portable applications with lower-capacity batteries and longer system lifetimes. The new op amp allows exceptional power-to-precision performance, consuming only nanoamps of supply current, while providing the high-precision benefits of optimized offset, drift and 1/f noise (flicker noise).
According to Texas Instruments, the LPV821 is extremely beneficial for applications where both precision and low power are essential system needs, including field transmitters and battery packs. With best-in-class supply current of 650 nA, the LPV821 extends battery lifetimes and enables lower power budgets in precision systems than competitive zero-drift devices.
TI's zero-drift technology delivers a low initial offset of 10 µV and an offset drift of 0.02 µV/°C, eliminating temperature drift and flicker noise, and enabling the highest DC precision and dynamic error correction. Additionally, self-calibration technology helps designers save system development cost and speed time to market. The low power consumption enables always-on applications such as continuous and blood glucose monitoring, and other electrochemical cell applications. Additionally, the low supply current decreases the external circuitry required to turn the amplifier on and off.
An input bias current of 7 pA and low flicker noise at 3.9 µVp-p enables operation with high-impedance sensors, delivering more accurate measurements in precision systems. And the LPV821 op amp can be paired with the TLV3691 nanopower comparator or ADS7142 nanopower analog-to-digital converter (ADC) to program a threshold that will automatically wake up a microcontroller (MCU) such as the CC1310 SimpleLink Sub-1 GHz MCU, further reducing system power consumption.
For development, the TINA-TI SPICE model is available to simulate designs and predict circuit behavior when using the LPV821 op amp. Pre-production samples of the LPV821 op amp are now available through the TI store and authorized distributors in a 5-pin small-outline transistor (SOT-23) package. More information and application notes available online.
www.ti.com/product/lpv821