NXP has teamed up with Arrow Electronics, Synaptics and Amazon to develop the Synaptics AudioSmart 2-Mic and NXP Pico i.MX7Dual Development Kit for Amazon Alexa Voice Service (AVS). This newly available development kit is one of the first to be qualified with production-ready system-on-chip (SoC), voice processor, and the AVS Device SDK. It enables device makers to quickly and cost-effectively integrate Alexa into a fully functioning prototype and then take that work into design for manufacturing and production.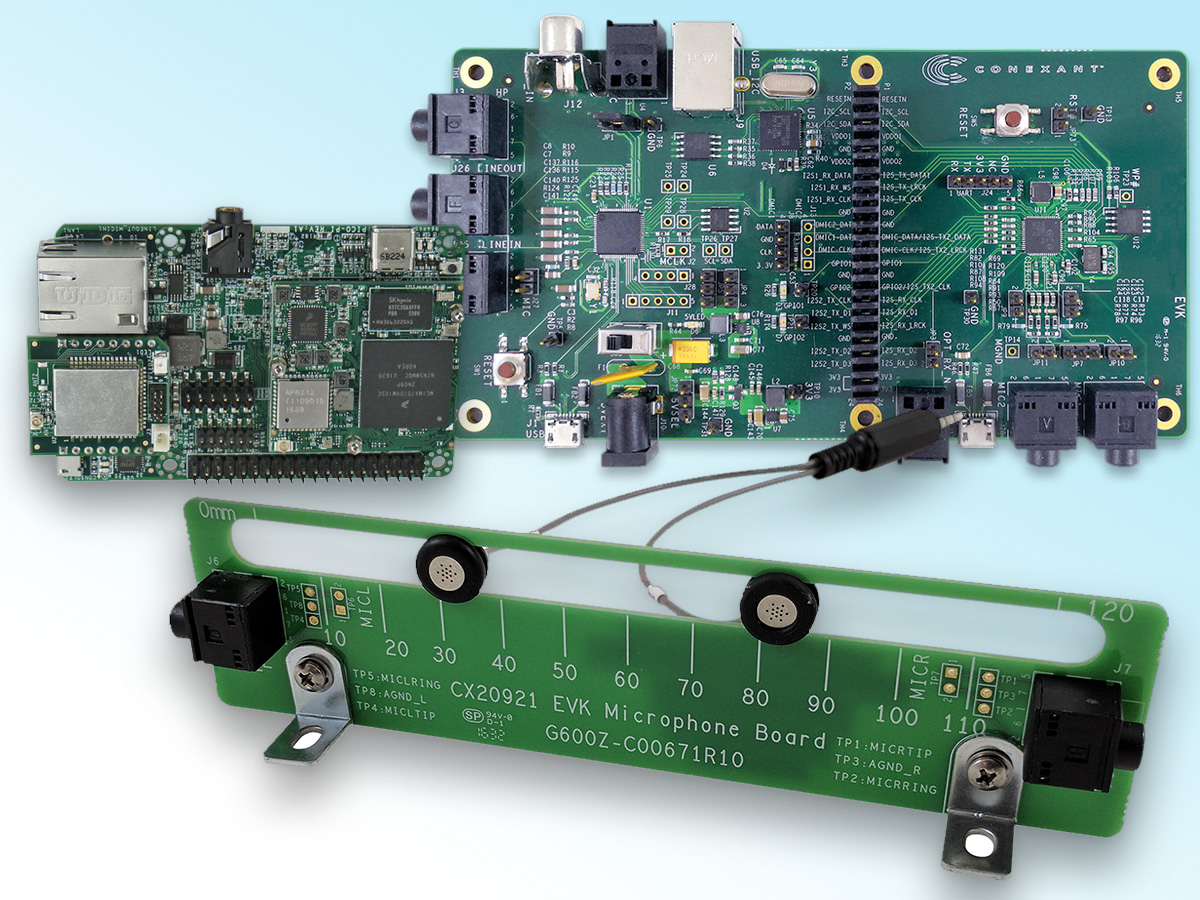 With the Amazon Echo now becoming the recognized reference on voice recognition applications, manufacturers want to implement the Alexa voice engine in all sorts of devices, and new speakers in particular. With market research firm Strategy Analytics predicting that over 40 million smart speakers will be sold by 2020, it's understandable why many companies are investigating how to add voice to their next generation devices. The challenge on the development side is to how to piece together both the hardware and software needed to enable voice on a device.
The new Alexa Development Kit, now available from Arrow Electronics, combines a Synaptics (Conexant) AudioSmart 2-Mic Development Kit for Amazon AVS that is supported by a commercially available NXP system-on-chip (SoC) application processor. The kit hardware features the Synaptics' CX20921 Voice Input Processor and the PICO-PI-IMX7 i.MX 7Dual development board, a purpose-built small-footprint platform which features NXP's i.MX 7Dual dual-core applications processor, handling wake word recognition and interface to Amazon's AVS service. Both processors are in full production and available for commercial designs.
The kit also includes stereo microphones with a microphone holder board, a micro USB cable, a Type-A to Type-B cable, cable assembly and a +5V power supply. The development solution is completed with a reference software client built using the AVS Device SDK and an Alexa tuned wake word so commercial device makers to get to market faster with Alexa-enabled products.
"This new Synaptics development kit with an NXP SoC for the Amazon Alexa Voice Service can add intelligent voice control to connected products with a microphone and speaker, enabling developers and engineers to rapidly create Alexa-enabled proof of concepts and prototypes," says Murdoch Fitzgerald, vice president of semiconductor marketing at Arrow. "Arrow is excited to team with Synaptics and NXP to bring this new kit to the developer community and help accelerate the innovation of new smart home products."
"Industry leaders are developing and investing to meet the growing demand of the voice-controlled future smart home," says Martyn Humphries, vice president and general manager, Media IoT and i.MX Applications Processors at NXP. "Collaborating with leaders like Amazon and the companies it works with is essential in delivering the key tools and support needed to meet the demands of this prospering market.
"Voice as a human interface is rapidly expanding in smart homes and the broader IoT landscape due to the broad global expansion of voice services like Amazon Alexa," says Saleel Awsare, vice president and general manager, Audio and Imaging Business, Synaptics. "When voice services are combined with Synaptics' AudioSmart far-field voice DSPs, new voice-enabled human interface devices can accelerate into numerous IoT applications whether consumer, enterprise, or commercial."
Key Features of the Synaptics NXP 2Mic AVS Dev Kit include technology to detect and cancel noise from all directions, ability to detects the Alexa wake word during music playback or voice prompts with integrated voice trigger function, high-dynamic range analog-to-digital converters (ADC) optimized for hands-free voice applications, Wi-Fi 802.11ac and Bluetooth 4.0 wireless connectivity integrated in the PICO-PI-IMX7 board, with 512 MB DDR3, and 4GB eMMC storage.
This development kit enables device makers to quickly and cost-effectively integrate the Amazon Alexa Voice Service (AVS) into a fully functioning prototype, and then take that work into design for manufacturing and production. The Synaptics AudioSmart 2-Mic Dev Kit for Amazon AVS with NXP SoC is available exclusively from arrow.com for $375 USD.
www.arrow.com/en/products/synapticsnxp2micavs/arrow-development-tools