Studio Six Digital has released an updated version of its Surround Sound Signal Generator for Apple TV. This app is available from the Apple TV App Store and is an essential tool for integrators. To install it, users just need to navigate to the App Store on an Apple TV, and search for "Surround Generator". When installed, the app offers a variety of test signals that can be used with Studio Six Digital's AudioTools app to help check speaker polarity, delay, and EQ to optimize the surround audio experience.
Dolby Atmos home theater systems are getting more popular every day, and it is important to set up and test these systems properly. With the updated Surround Generator app from Studio Six Digital, and an Apple TV 4K, users and integrators now have the ability to send test signals to any of the 9.1.6 Dolby Atmos channels.
The Surround Generator app offers test signals for Dolby 5.1, Dolby 7.1, and Atmos 9.1.6 (optional) audio formats. Of course, Apple TV 4K is required for Atmos signals. Test signals available in the Surround Generator 2.0 now include Pink Noise Full Band, Pink Noise Midband, Impulse Response sweeps, Polarity, Impulse (for ETC), and a sine sweep signal for use with Impulse Response.
Users can select one single loudspeaker channel, route the signal to all channels, or activate a cycle to move the signal around the room.
Tests that can be performed in conjunction with AudioTools include:
Polarity. To check that speakers are wired correctly.
RTA, FFT or Smaart Spectrum. To check overall frequency response and set EQ.
ETC. Use the Impulse to check room decay and adjust absorption.
Impulse Response. Using the 7-second sweep, run IR on each channel to view frequency response, and the performance of the speaker in the room.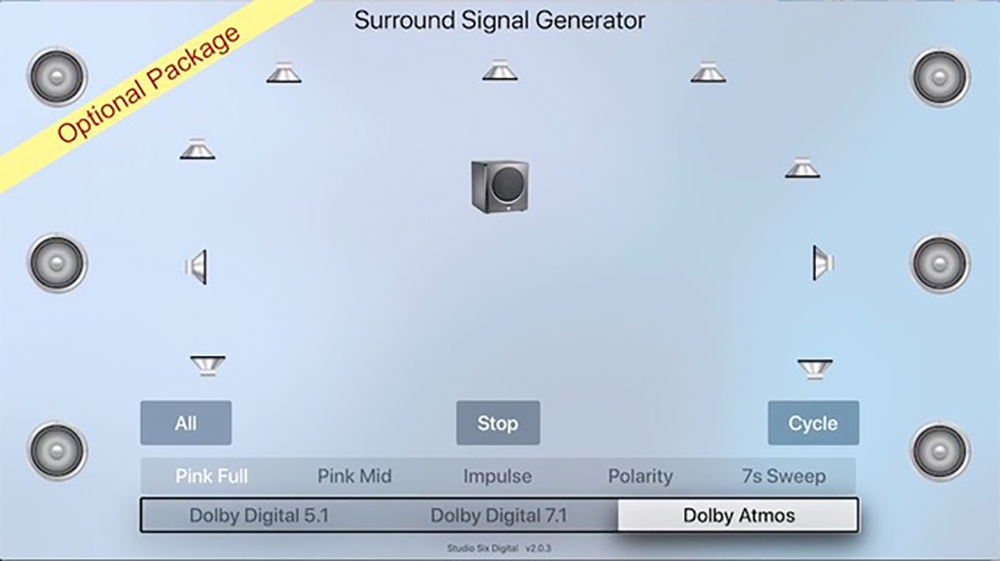 With the latest 2.0 release, Studio Six Digital added full support for testing Dolby Atmos systems with up to 9.1.6 channels. The same pink full, pink mid-band, polarity, impulse, and 7-second sweep files are available, for each channel, and for all channels at once. The Atmos signal package is an in-app purchase, available to existing users after updating the app to the latest version, or for new users.
With the Atmos signal package, end-users or integrators are able to setup a Dolby Atmos system, verify that the system was installed properly, check speaker assignments, and find out if the processor handles missing speakers or unassigned channels.
Studio Six Digital offers unique discounts while the pandemic restrictions are in place. For a limited time, the Atmos signals in-app purchase is on sale for 25% off. The Surround Generator app is also on sale now, at half the normal price. Get the app and add the Atmos signals now while this sale is running.
www.studiosixdigital.com