The race to lead the true wireless earbud market category is heating up, with the major brands introducing updated specifications and focusing on key selling points. The whole market recognizes that Apple has a clear lead due to its tight hardware integration and dedicated wireless chip, already in its second-generation. Now Sony enters the market with the new and improved WF-1000XM3 model - $229.99 - featuring also its own HD Noise-Canceling Processor QN1e processor, new Bluetooth chip and optimized antenna design.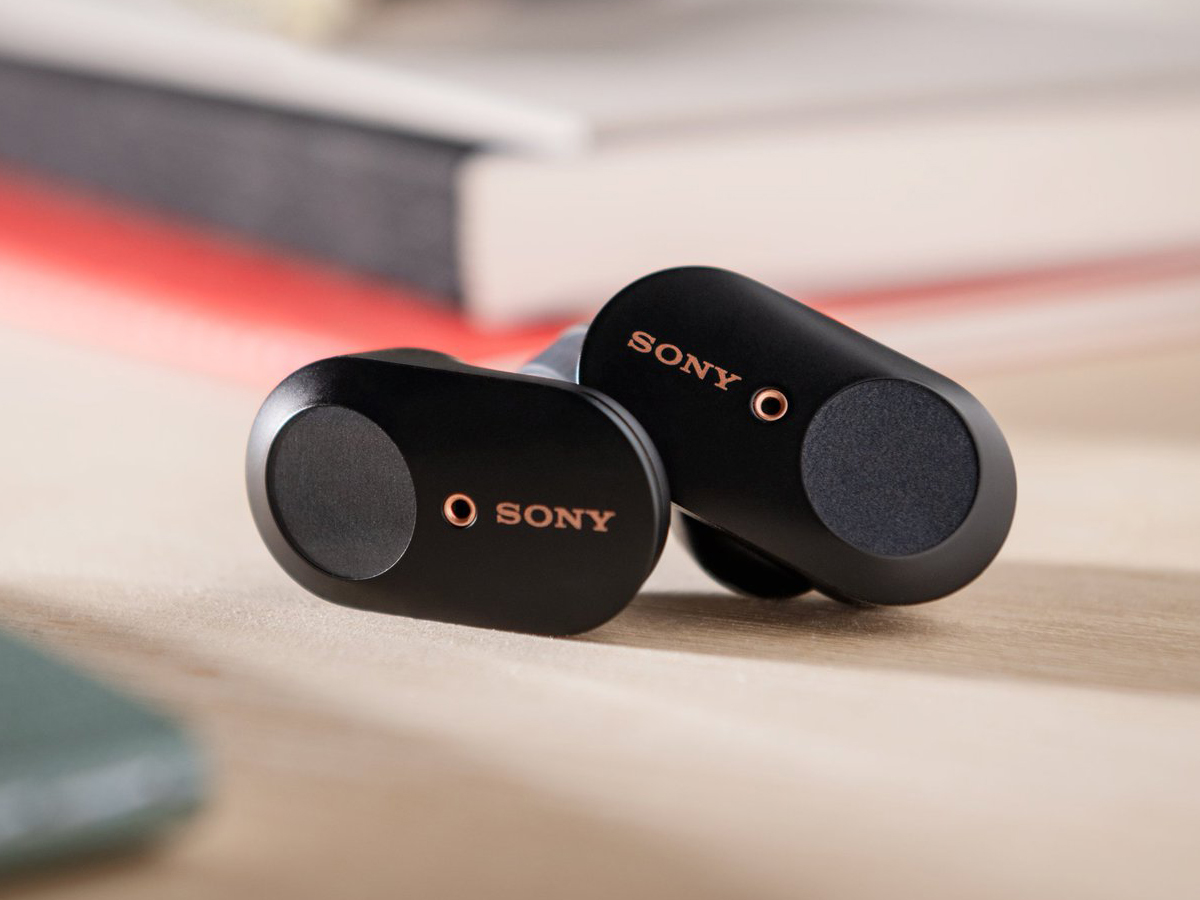 Industry-leading noise cancelation in true wireless earbuds? That's precisely how Sony is pitching its new WF-1000XM3, a surprise introduction, short after rival Bose also made a surprise announcement of a new noise-cancelling design in the more traditional over-ear category with the Bose 700, where both companies are competing for the market lead. But Bose also announced it will be launching the new true wireless Noise Cancelling Earbuds 700 later this year, so that was reason enough for Sony to speed up the introduction of its WF-1000XM3 true wireless model, which basically follows a very similar form factor to previous Sony wireless earbuds.
As Sony states, consumers can expect "the most advanced ever noise-canceling technology in truly wireless headphones" in the WF-1000XM3, and that's based on the brand new dedicated HD Noise-Canceling Processor QN1e. "Having caught the ambient sound, the dedicated HD Noise-Canceling Processor QN1e gets to work. It not only cancels significantly more noise across almost all frequencies, but also uses less power," Sony states. The statement also highlights another critical factor for TWS designs, which is the ability to power additional circuits, like ANC, without compromising on battery life.
The new ANC QN1e processor is also complemented with dual microphones — one feed-forward and one feed-back — placed on the surface of the headphones, allowing the system to catch more of the ambient sounds from its surroundings, whether it's in-flight noise, city traffic, or office chatter. Having caught the ambient sound, the dedicated QN1e processor cleverly creates an inverted sound wave to offset the background noise, acting directly across almost all frequencies, depending on the user configurable settings for the situation.
The complimentary Sony Headphones Connect app offers Adaptive Sound Control, a smart function that automatically detects what the user is doing, such as traveling, walking, or standing and adjusts ambient sound settings to suit the situation. Users can also customize the settings to their preferences in the app.
According to Sony, even with this sophisticated ANC system, the WF-1000XM3 is able to offer 6 hours of power on a full charge, while the well-designed charging case provides a further three charges, for up to 24 hours of noise-free listening. With noise canceling off, Sony explains, the earbuds are able to work for 8 hours on a full charge, with up to 32 hours of additional play time available in the case. Also, being already an updated USB-C design, the earbuds have quick charge. Just 10 minutes of charging provides up to 90 minutes of battery life.
And since the asking price of $229.99 (plus tax) places the WF-1000XM3 above the competition, Sony also wanted to combine the best possible listening experience in its new TWS model. Inside each earbud is a new dynamic driver unit that measures only 0.24", and uses a dome type (CCAW voice coil) design with neodymium magnet.
Following the technology developed for Sony's 1000X family, the WF-1000XM3 earbuds deliver high quality sound, once again relying on the power of the dedicated QN1e processor, which combines 24-bit audio signal processing and DAC with amplifier. As Sony has been implementing in other products, its Digital Sound Enhancement Engine HX (DSEE HX) upscales compressed digital music files including MP3 formats to translate a smoother experience. Supported audio formats include the standard SBC and AAC codecs, with A2DP, AVRCP, HFP, HSP Bluetooth profiles.
In terms of design, the WF-1000XM3 earbuds allow users to move freely with the tight fit of in-ears, with a body that's small and light enough to house all the electronics, the new optimized antenna structure, and battery, without compromising on the balance. The overall design improves comfort and stability in the ear, with the 'ergonomic tri-hold' structure holding the earbuds firmly in place, with three supporting points for the ear. A high-friction rubber surface has also been included to ensure a stable fitting, and 4 sizes of hybrid earbuds and three sizes of triple comfort earbuds, allow users to find the perfect fit.
The newly developed Bluetooth 5 chip allows for L/R simultaneous transmission, which means that both left and right earbuds receive audio content at the same time, and that a single earbud can be used in certain situation. The design is standard class 2 range, which means users can expect a transmission range of only around 30 ft (10 m). Also, according to Sony, the dedicated processing improves latency, which means that users will be able to watch movies on a paired device without any sync issues, even while having noise-cancelling active.
On top of the generous earbuds' surface, Sony also implemented a sophisticated touch control system, allowing automatic pause and play. Tapping on the left earbud allows to change from Noise Canceling to Ambient Sound, while double tap on the right allows skipping to the next track. Placing a finger over the earbud turns the volume right down and lets in ambient sound. So users can instantly chat with someone without taking their headphones off. A proximity sensor in each earbud can detect whether the user is wearing one or both, and adapts playback accordingly. When taken out, the music automatically pauses on both sides. Putting any of the earbuds back in and the music automatically resumes playing. And for those that like to customize the controls, the Sony Headphones Connect app lets assign alternative options to each earbud.
Finally, Sony did not forget about voice assistants. And since Sony is increasingly working closer with Google (Sony's TV's are the only ones in the market advertising the use of Android operating system as a selling feature...), the new WF-1000XM3 true wireless earbuds have also been optimized for Google Assistant.
According to the Sony announcement, the WF-1000XM3 will be available from mid-August 2019, in silver and black color options.
www.sony.com