True wireless earbuds or hearables seem to be the focus for most of the audio brands in the consumer electronics industry. Given the technology convergence with audiology and communication solutions in this area, we shouldn't be surprised to see announcements from company leaders in those segments as well. Now, at IFA 2016, Jabra launched its first true wireless earbuds under its new Elite franchise with the promise of superior sound, strong battery life, and advanced personalized fitness analysis.
Drawing on the heritage of the GN Group's long-standing headset and hearing aid expertise, Jabra confirmed the launch of its new Elite franchise. The first product to market from the franchise, the Jabra Elite Sport earbuds are - as the company claims - "the most technically advanced, true wireless sports earbuds available (Jabra.com/commercial-claims)."
According to a Global Survey of 5,000 respondents promoted by Jabra in November 2015, 77 percent of people prefer to train without wires, to avoid the cable getting caught and pulling the earbuds out, while 69 percent regularly listen to music as they workout. That's why it's not surprising that the first offering in the Jabra Elite true-wireless franchise comes with sports credentials.
Jabra describes it as "the ultimate training aid that delivers freedom of movement on any terrain. The fully sweat and waterproof Jabra Elite Sport are packed with advanced features including ground-breaking in-ear fitness analysis, strong battery life and great music for anyone who wants to work out."
The Elite Sport earbuds were designed to deliver superior audio quality for calls and music without wires, supporting all major smartphone operating systems (both Android & iOS) with a focus on in-call experience. The earbuds analyze external sounds and automatically switch to the earbud with least background noise. Jabra also designed the Elite Sport earbuds to deliver a cord-free wearing style whether the user chooses to use one or both earbuds. When both are used, they offer outstanding stereo sound, as well as full sports functionality.
With an array of ear gels and ear wings presented in-box, as well as foam tips for passive noise-cancellation and enhanced bass, the earbuds deliver a secure and comfortable fit. At the same time, audio pass-through allows users to tune-in to surroundings at the touch of a button. The Jabra Elite Sport earbuds design benefits from two integrated microphones in each unit. One captures voice and the other focuses on external noise. Together, the earbuds overlay the two feeds, identify the background noise and remove it, allowing taking calls without interruption, and listening to music or hear in-ear training tips.
If a call comes in while the user is running, voice controls and audio prompts allow the user to reject or take the call without having to touch the phone. The earbud will run up to three hours of calls and music when fully charged – more than enough for most workouts – plus up to six hours of additional charge from the compact carry-case.
The new Jabra earbuds deliver a comprehensive range of audio training tools to ensure users have the perfect training companion with them, whatever their fitness level or work-out regimen preference. This includes advanced personalized fitness analysis thanks to an in-ear heart rate monitor with 90%+ accuracy and an integrated app that offers automatic fitness testing (VO2 Max measurement), race-time predictor and recovery advisor. The Jabra Sport Life app (iTunes and Google Play) delivers these updates via real-time in-ear coaching to ensure an uninterrupted workout.
The personalized VO2 Max data generated by Jabra Elite Sport, and captured by the app, allows users to track their fitness development over time. It uses intelligent in-ear coaching to provide real-time feedback based on users' heart rate and fitness level. When they finish, the Jabra Sport Life app provides a range of information to help users improve their fitness level, including distance covered, pace, route, calories burnt and training effect.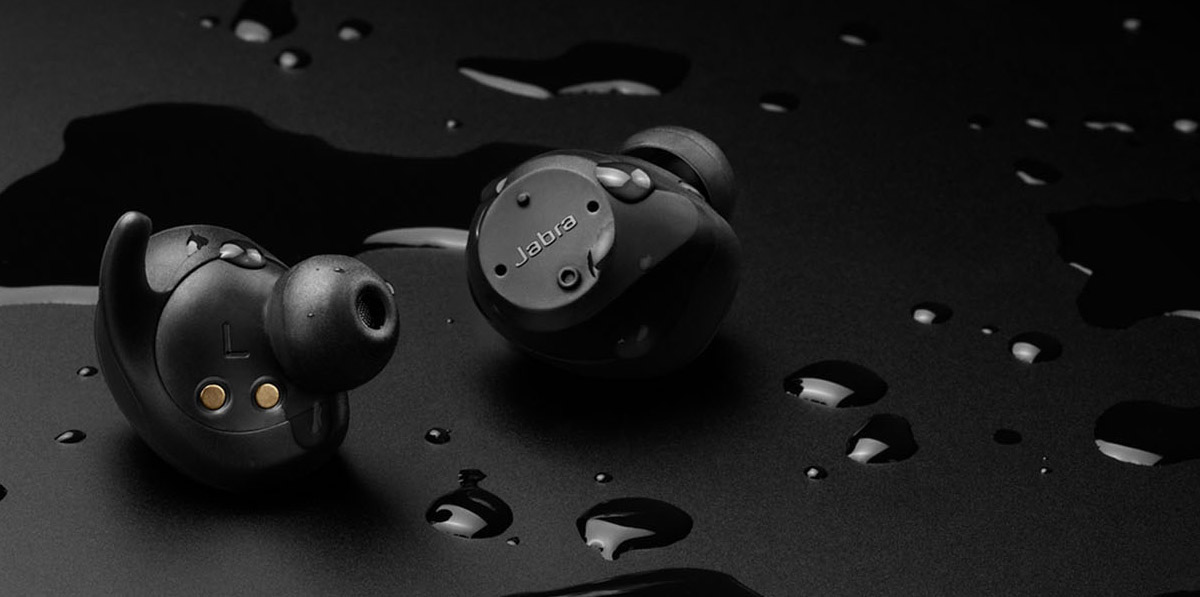 As a training partner, Jabra Elite Sport has the added assurance of a three year extended warranty against sweat, and being IP67 rated, is tested to work for at least 30 minutes while submerged in up to 3 feet of water. Pioneers in sound, from sports earbuds to hearing aids, Jabra (as part of the GN Group) has used its unique understanding of high-quality sound in the development of Jabra Elite Sport, created in collaboration with engineers from smart hearing aids specialist ReSound.
As René Svendsen-Tune, CEO of Jabra says, "What really excites me about our first true wireless earbuds is that they offer an experience that only Jabra can bring-to-life. We've used our R&D expertise from across the GN Group to deliver not just the most technically advanced true wireless sports earbuds, but also the most complete cord-free experience for our customers. Jabra Elite Sport is an example of an intelligent sound solution that delivers calls and music very well."
Jabra Elite Sport will be available for $249.99. Pre-orders will begin in early October 2016.
www.jabra.com/elitesport