Soon, the world of computing, consumer electronics and AV will benefit from new standard technologies like HDMI 2.0 with a bandwidth up to 18Gbps, 4K@50/60 (2160p) resolution support and 32 audio channels, in parallel with Thunderbolt 2, with its 20Gbs bi-directional bandwidth, supporting 2x 4K signals and DisplayPort. In August 2014, the USB 3.0 Promoter Group confirmed the updated USB Type-C specification and now the Video Electronics Standards Association (VESA), working in liaison with the USB 3.0 Promoter Group, announced the publication of the DisplayPort Alternate Mode ("Alt Mode") on USB Type-C Standard, finally creating a roadmap for future USB connectivity.
Using the DisplayPort Alt Mode, a USB Type-C connector and cable can deliver full DisplayPort audio/video (A/V) performance, driving monitor resolutions of 4K and beyond, SuperSpeed USB (USB 3.1) data and up to 100 watts of power-over a single cable. The DisplayPort Alt Mode can also drive adaptors that support the huge installed base of existing DisplayPort, HDMI, DVI, and VGA displays.
VESA utilized the Alternate Mode functional extension of the USB Type-C specification in the development of this new Standard. The DisplayPort Alt Mode repurposes some or all of the four existing SuperSpeed USB lanes to deliver full DisplayPort performance, and uses other signaling available in the USB Type-C connector for DisplayPort's AUX channel and HPD (Hot Plug Detection) function. This enables computers, tablets, smartphones, displays, and docking stations to implement the new USB Type-C connector at both ends while using the DisplayPort Standard over USB Type-C to transmit high-resolution A/V along with USB data and power.
Devices supporting DisplayPort Alt Mode on a USB Type-C connector can also connect to an existing DisplayPort device using a reversible USB Type-C to DisplayPort converter cable. Video source devices that support DisplayPort Alt Mode on a USB Type-C connector can use an appropriate adaptor to drive an HDMI, DVI or VGA display. All adaptors and converter cables will comply with all USB Type-C characteristics, including reversible plug orientation and cable direction.
Like USB, DisplayPort uses a packetized data structure and differential AC-Coupled signal "lanes" that carry high speed data with an embedded clock. This allows the same electrical circuits and cables to carry either SuperSpeed USB data, at up to 10 Gbps per lane, or DisplayPort, at up to 8.1 Gbps per lane, as defined in the new DisplayPort 1.3 Standard. Early implementations of DisplayPort Alt Mode USB Type-C devices will likely use existing DisplayPort 1.2a capabilities that support up to 5.4 Gbps per lane. Using 5.4 Gbps across all four high-speed lanes will support up to 4K (4096 x 2160) display resolutions at a 60Hz frame rate with up to 30-bit color.
By leveraging USB Type-C's flexibility, the DisplayPort Alt Mode can choose to transmit on just one or two of the four available lanes, so that the other two lanes can be used for SuperSpeed USB data at the same time. In a docking station connection, for example, the use of two lanes for DisplayPort at 8.1 Gbps per lane would allow simultaneous transfer of SuperSpeed USB data (up to 10 Gbps in each direction) while also supporting a 4K UHD (3840 x 2160) DisplayPort monitor. The dock can also be configured with DisplayPort protocol converters to support HDMI, VGA and/or DVI monitors. When using all four lanes for DisplayPort Alt Mode, which could drive a monitor with up to 5K (5120 x 2880) resolution, USB 2.0 data can still be carried across the USB Type-C connection using separate pins dedicated for that function.
New USB Type-C Connector
The new USB Type-C specification that defines the next generation USB connector - announced by the USB 3.0 Promoter Group in August 2014 - establishes a new cable and connector scheme tailored to fit mobile device product designs, yet robust enough for laptops and tablets.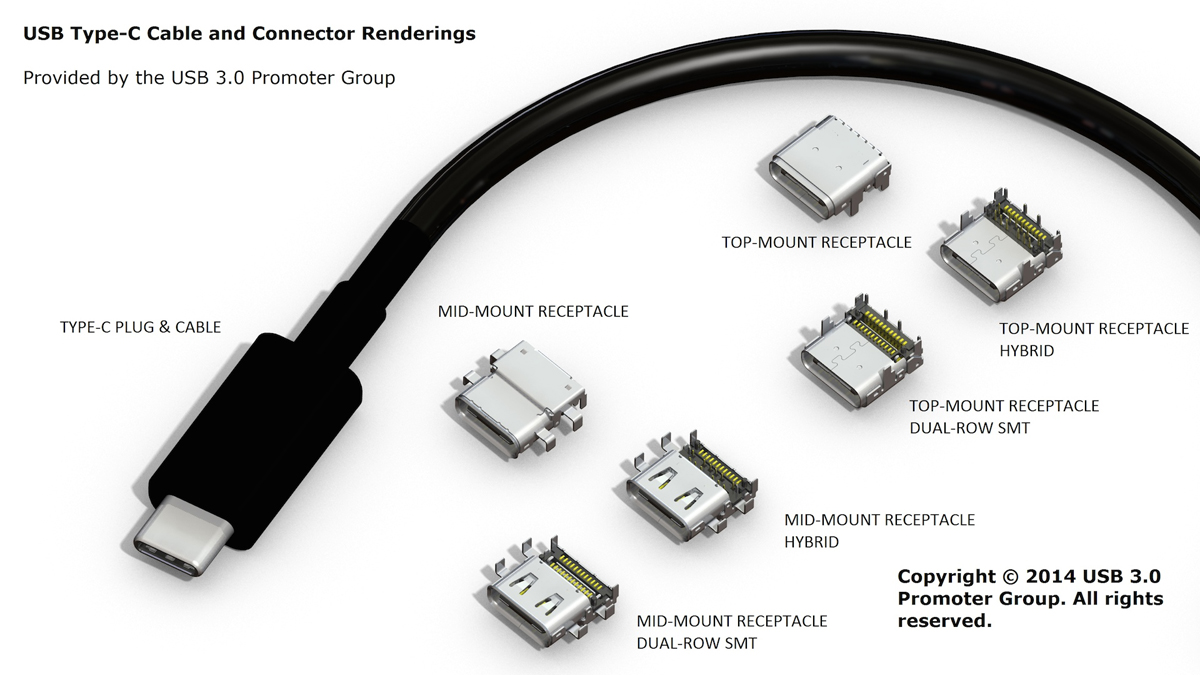 The USB Type-C specification defines the physical USB Type-C cable and connector form factor along with the functional requirements for detecting and managing USB connections over an extensible wiring architecture. This new cable and connector supports USB performance at SuperSpeed USB 10 Gbps (USB 3.1) and USB Power Delivery up to 100W.
Key characteristics of the USB Type-C connector include:
• Entirely new design • Usability enhancements • Reversible plug orientation and cable direction
• Designed to support future USB performance needs
• Mechanical specs:
o Receptacle opening: ~8.4mm x ~2.6mm o Durability: 10,000 cycles o Improved EMI- and RFI-mitigation features o Power delivery capacity: 3A for standard cables and 5A for connectors
The new USB Type-C plug and receptacle will not directly mate with existing USB plugs and receptacles (Type-A, Type-B, Micro-B, etc.); however, the USB Type-C specification defines passive new-to-existing cables and adapters to allow consumers to use the new connector with existing products.
The USB 3.0 Promoter Group also announced the release of the USB Power Delivery v2.0 and USB Billboard Device Class v1.0 specifications. The USB Type-C specification defines Functional Extensions that enable USB Type-C hosts and devices to support optional capabilities. The Functional Extensions include Alternate Modes, an option that permits a vendor or standards organization to utilize the USB Type-C cable and connector and provide additional features. Vendors or standards organizations that develop USB Type-C Alt Modes will be required to obtain a standard or vendor ID (SVID) assigned by the USB Implementers Forum (USB-IF). Both the USB Power Delivery v2.0 and the USB Billboard Device Class v1.0 specifications are essential for the development and implementation of Alternate Modes.
USB Power Delivery v2.0 Specification
The USB Power Delivery (PD) v2.0 specification updates the USB PD v1.0 specification to meet the requirements of the USB Type-C specification and to incorporate additional changes. If a USB Type-C host or device supports Alternate Modes, the host and device will use USB Power Delivery Structured Vendor Defined Messages (Structured VDMs) to discover, configure and enter/exit Alternate Modes. The USB Power Delivery Structured VDMs are defined to extend the functionality a device exposes. Only Structured VDMs shall be used to alter the USB functionality or reconfigure the pins the USB Type-C connector exposes. 
Structured VDMs provide a standard method to identify the Alternate Modes a device supports and to command the device to enter and exit an Alternate Mode. The use of Structured VDMs are in addition to the normal USB PD messages used to manage power. Multiple Alternate Modes may exist and/or function concurrently.
The USB Billboard Device Class specification outlines the methods used to communicate if an Alternate Mode is supported by a USB Type-C capable host or device. In particular, if a device fails to successfully enter an Alternate Mode then the device will minimally expose a USB 2.0 Billboard interface powered by VBUS.
www.vesa.org
|
www.displayport.org
|
www.usb.org