Swiss audio technology company Archwave will be present at the Integrated Systems Europe (ISE) show from 10th to 12th February 2015 in Amsterdam (booth 7S-186), introducing a series of AES-67 audio network solutions, including a range of hardware modules, as well as a new Command & Control solution for audio networks based on the exclusively licensed CopperLan technology.
Archwave is a technology partner of different pro audio manufacturers and especially renowned for its innovative USB audio-streaming technologies. The Swiss audio specialist will display at ISE a new series of AES-67 solutions characterized by straightforward integration and user-friendly control interface. The system offers a variety of hardware modules and an intuitive network management system (Command & Control), built around the exclusive CopperLan technology.
Catering to the demand for easy-to-integrate AES67-compliant solutions, Archwave is offering the AudioLan suite of products. Archwave AudioLan is the first completely integrated hardware & software package to guarantee professional grade audio thru an AES67 network. In recent years Archwave has invested in RAVENNA and AES67 audio network technologies and became recognized as a provider is network bridging, USB and recording solutions for audio applications.
AudioLan by Archwave comprises of a family of off-the-shelf hardware modules which are AES67 compliant and also support the Ravenna protocol for audio networking. These modules offer easy configuration via a web browser on a laptop, tablet or smartphone using an attractive and intuitive graphical user interface, as standard.
For additional ease of configuration in broadcast or sound-reinforcement applications, Archwave recommends using the optional Ember+ or CopperLan-for-Audio control protocols. Ember+ is already widely used in broadcast equipment; CopperLan is a new powerful networking framework used by developers of musical instruments, professional audio equipment and live stage control. It offers limitless networking between CopperLan and MIDI applications and hardware, connection management of an entire setup from one or more Manager instances (with setting replication), and universal remote editing of parameters in any CopperLan target without specific drivers or libraries. The solution also allows setup-wide snapshot and restore of all settings and connections.
Currently, Archwave has the exclusive license to the CopperLan technology. "Simply put, it's 'MIDI 3.0 on steroids.' It opens up innovative ways to connect and control musical instruments, audio equipment and networks," states Archwave's CEO, Arie van den Broek.
Using CopperLan in conjunction with the Archwave AudioLan products adds a powerful extra feature to Archwave's web-based configuration tool, and makes set-up of large stage installations much quicker and easier.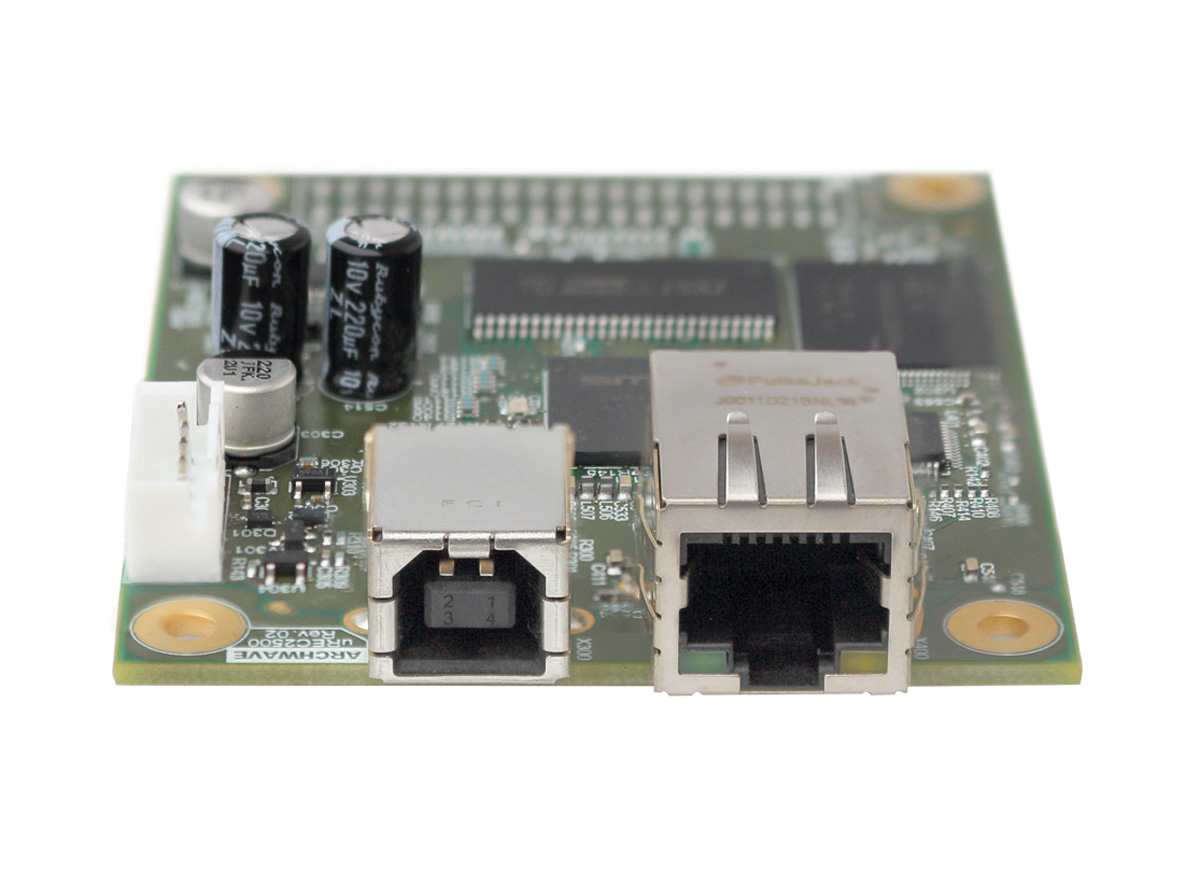 Archwave's AudioLan product family consists of a range of cost-effective modules offering Ethernet audio networking, and available from 4 channels to 128 channels. All modules are controllable via an attractive web interface and are AES67 compliant. In addition they offer optional support for CopperLan, Ravenna and Ember+. These products will be of interest to manufacturers of professional audio equipment for studios and stage use, and of musical instruments, who wish to take advantage of new developments in stage and studio technology.
Archwave stand will show these compact AES67/Ravenna modules:
-    uNET STANDARD with up to 32 audio channels, standard 40-pin Molex connector
-    uNET COMPACT with up to 16 audio channels, Mini-PCI Express connector
-    uNET MINI with 4 audio channels, Mini-PCI Express connector
-    uNET CENTRE with up to 64 x 64 audio channels and GbE Interface
Archwave was founded in 2009 as a spin-off from the former BridgeCo, Inc. (original developer of the technology behind Apple's AirPlay and the JukeBlox platform, acquired by SMSC in 2011, and subsequently merged into Microchip) and became a trusted supplier of ASIC and Software solutions for audio streaming and networking solutions.
www.archwave.net