With Bluetooth wireless headphone announcements abounding at the IFA 2017 show in Berlin, one of the leading players in the segment announcement an improved generation of products. Philips, now a Gibson brand, announced its new Philips Bass+ headphone range with new simple but sturdy designs, targeting the young, mobile generation, including the Bass+ True Wireless in-ears. The range is called Bass+ because it features specially tuned drivers and bass vents to produce ultra low-end frequencies.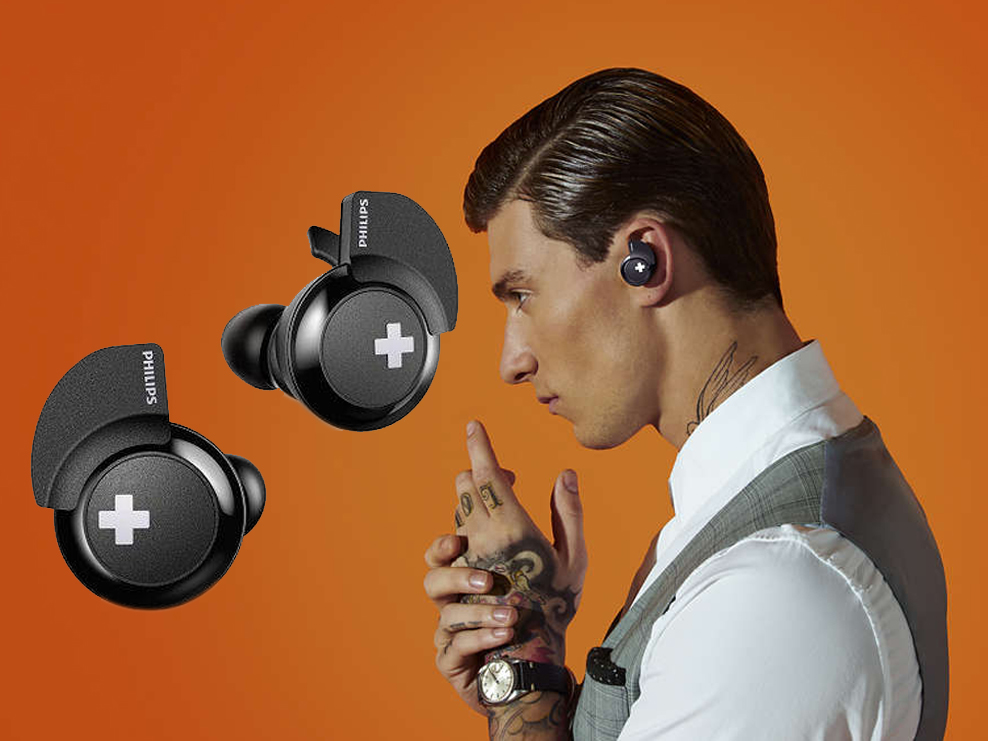 The new Philips Bass+ range consists of headphones to meet any wearing style. Later this year, the company intends to release the Bass+ True Wireless in-ear Bluetooth headphones, following a first preview at IFA 2017. These headphones combine big bass with a totally wire-free experience and have a unique earbud design that isolates sound to keep the user immersed in music, while a C-fit stability fin ensures they stay secure. The technical design has also been optimized to achieve a new standard of connectivity performance. Complete with a convenient charging capsule, these truly wireless earbuds offer up to 6 hours of playback on a single charge, or a total of 12 hours of listening time with the charging capsule.
While many headphones in the market compromise on bass performance, Philips' Bass+ headphones overcome this challenge with a specially designed driver that uses custom acoustic tuning in the housing itself to enhance the bass quality through the full dynamic range in a small, practical package.
"Bass+ is all about the way bass makes you feel. Beats hit with more impact to make everything bigger, thicker and juicier," says Michael Davies, Headphones Business Line Leader at Gibson Innovations. "From the compact, durable product design to the loud packaging, Bass+ headphones have style and send a singular message – they're all about the bass."
The Bass+ range includes a variety of wired and wireless wearing styles, with on-ear, over-ear and in-ear versions. Over- and on-ear models include powerful, high quality speaker drivers to produce rich, pumping bass. Soft ear cushions keep them cool and comfortable for long listening sessions. Over-ears in the range are compact folding for easy portability and storage. For wireless, the Bluetooth version features handy button controls on the right ear shell for quick access to music and call controls. In-ear headphones in the range (wired or wireless) feature custom tuned drivers that pack an unexpected punch for their size, delivering great sound isolation and wearing stability.
BASS+ headphones come in a wide range of colors to match any outfit and lifestyle. "They are easily wearable in all conditions ideal for pairing with jeans and trainers," the company says. Available colors include slate black, smoky white, maroon red and blue petrol. All are extremely affordable. The on-ear model (SHL3070) in black, white, blue and red retails for just €24.99 and €29.99 with mic (SHL3075); the over-ear wired model (SHL3175) sell for €39.99; the in-ear wired model (SHE4300) costs just €14.99, or €19.99 with mic (SHE4305); the on-ear BT (SHB3075) retails for just €49.99; while the over-ear BT (SHB3175) sells for €69.99; and the in-ear BT (SHB4305) retail for €59.99. The new true wireless model (SHB4385) will be available from November 2017 for just €129.99.
All these new Philips products are created by Gibson Innovations, a subsidiary of Gibson Brands, that also designs headphones, audio systems, soundbars and connected audio with world-recognized brands including Philips and Onkyo.
www.gibson.com
|
www.gibsoninnovations.com