Pioneers in designing and bringing to market USB microphones, Blue now expanded its scope to include a complete mobile recording package integrated into a USB microphone. The Raspberry Studio combines a compact cardioid condenser USB microphone with a built-in 24-bit audio interface, custom recording software from PreSonus, and advanced mastering software from iZotope. A beautiful design and a nice recording solution from Blue.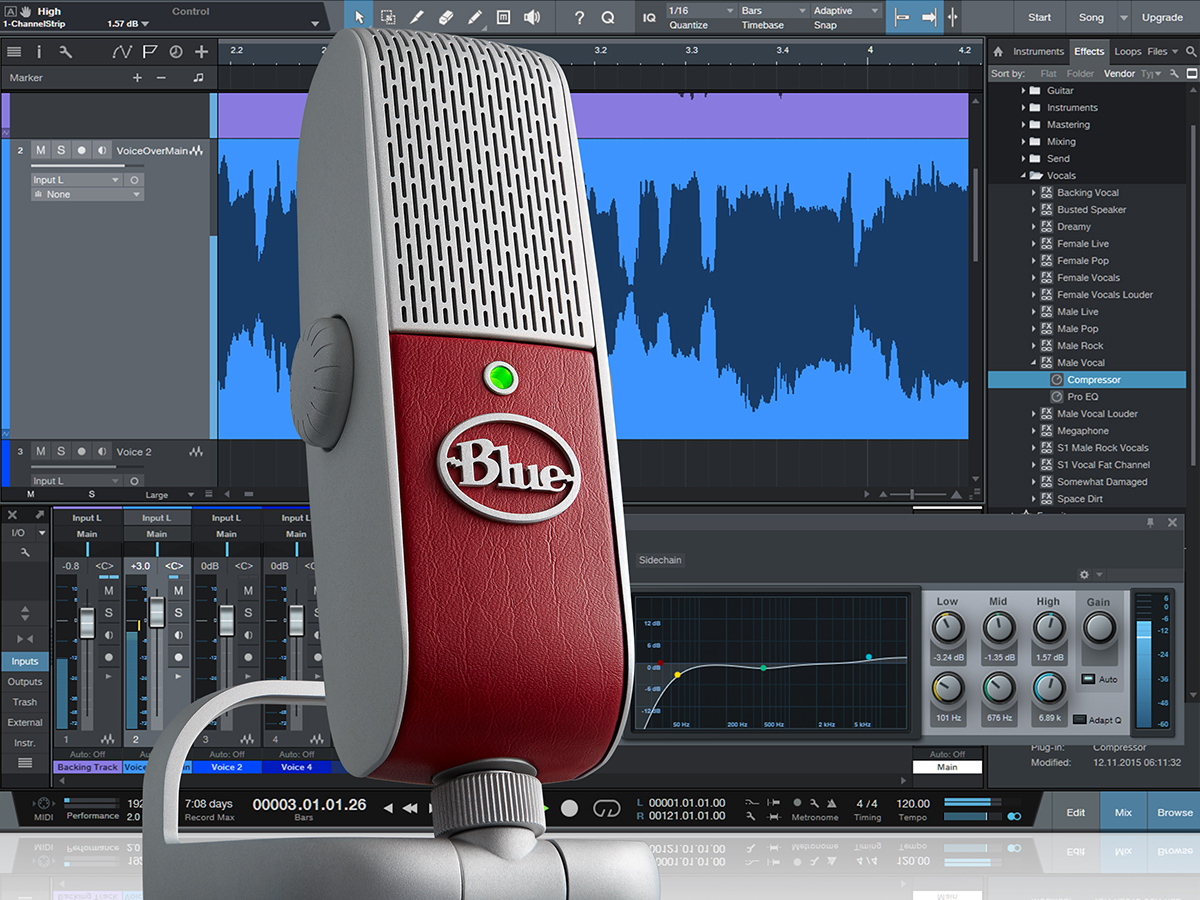 Raspberry is a complete mobile USB 24-bit/48kHz recording solution for PC, Mac and iOS. The Raspberry features patented microphone technology that the company says delivers the clarity of studio microphones in a small, portable format. The versatile 14mm electret condenser capsule is specifically tuned to sound great up close or at tabletop distance. According to Blue, a patent-pending Internal Acoustic Diffuser (IAD) focuses on the voice or instrument and minimizes environmental sounds by diffusing noise and reflections, while the integrated stand minimizes contact with surfaces and isolates the microphone from vibrations.
Offering plug-and-play operation for iPhone, iPad, Mac, and PC, with onboard Mic level and Mute controls, it is easy to adjust gain and monitor audio without latency during recording using the integrated 3.5mm headphone jack. The Raspberry features a 1/4" diameter mount thread (standard camera mount) that directly attaches to its own cleverly-designed stand and comes with a standard microphone stand mount adapter. When not in use, the Raspberry easily folds up into the integrated stand and slips into the included soft carry case for extra protection and easy transport.
"Raspberry Studio offers modern creators everything they need to produce studio-quality projects on the go," says Tommy Edwards, Director of Product Management at Blue Microphones. "By combining Blue's acclaimed microphone design with custom Presonus recording software and iZotope mastering software, Raspberry Studio allows creators to move beyond the desktop studio, follow their inspiration and get professional results anywhere."
The solution also features custom templates for music, voice-overs and podcasts, making it easy to create quality projects anywhere. The Raspberry Studio package includes PreSonus Studio One Artist Blue Microphones Edition multitrack recording and editing software, which combined with iZotope Ozone Elements, offers intuitive controls and sophisticated audio processing tools, with presets for any type of production.
Raspberry comes with a USB cable, along with a Lightning cable for iPad and iPhone connectivity. The microphone is also compatible with most Android devices via the OTG accessory cable, which is not included. Raspberry Studio is available now for USD $219.99 MSRP, at selected online retailers, and coming soon to authorized retailers worldwide.
bluedesigns.com/products/raspberry/