CEDIA Expo is the annual show created by and for the Custom Electronic Design & Installation Association (CEDIA), founded 20 years ago to advocate home technology, promoting training/certification, business, and the industry in general.
The event was held September 4-8, 2018 at the San Diego Convention Center in San Diego, CA. CEDIA Expo attracts about 20,000 home tech pros and more than 500 exhibitors with the focus on home theater, whole house (and outdoor) audio/video, home automation, and everything else for residential integration for what is becoming predominantly "smart homes." A quick look at the show's daily newspaper revealed the clear trend, with a world of typical smart home installation products with bushings, brackets, hoods, and wall-plates, with and without touchscreens and thermostat controllers.
While San Diego was sunny, there was some gloom surrounding the event with what was perceived, at best, a flat show. Last year, CEDIA sold the ownership of the CEDIA Expo to Emerald Expositions, a large trade show operator. While the organization continues to be involved in the show and retains control of the educational programming, the expensive West Coast location and increased booth costs are causing both exhibitors and attendees some pain and were the reason for some apprehension. The press room this year was a good indicator that something was not right. While the staff was super nice as always, there were no computers installed, no printer, and no press kits were allowed in the press room!!
At least, CEDIA 2019 will be relocated to Denver, CO, a favorite location for most of the supporting companies. But that didn't stop the backstage discussions from many, who are already advocating they would rather join the InfoComm show and promote an "integrated systems" approach, as both CEDIA and AVIXA already do in Europe for the ISE show.
As expected, following the dominant topics from the previous year, one of the big trends was voice control, which I would say is becoming a must-have feature in everything from smart speakers to soundbars and just about everything else. An example of how pervasive voice control already is can be found in the
Brilliant smart light switches
that work with Alexa, Google Assistant, and just about every other smart home system.
We all have experienced the frustration and marginal performance of voice technology. Crowds in a restaurant, a busy city street, even just an open window in the car, or room diminishes your chances of getting a quick and relevant response. For far-field accuracy at 10' (e.g., sitting on a couch watching a blaring TV), the chances are that you will end up cursing at the voice command system! Today, the short fall is the mic's signal-to-noise ratio (SNR) is just not there - another 5 dB or 10 dB is needed (along with the algorithms to take advantage of the better SNR). While quieter mics are coming in 2019, I wonder how much the current products will discourage the market in trusting in voice command functionality.
But some companies are determined to "get things right," at least if you trust the custom installer to do a proper job of setting up the "smart home" integration. An example of a company that is working on it is
Josh.ai
. audioXpress wrote about Josh.ai a year ago, after the company basically
stole the show at CEDIA 2017
by affirming its ambitions as the "voice interface" for the custom integration industry.
A year after, everyone agrees that voice control is becoming mandatory as an additional interface for the home automation industry. But while the dominant voice personal assistants (e.g., Amazon Alexa, Google Assistant, and Apple Siri) are becoming exactly that - personal assistants that are with us every time and follow the users wherever they go - the installation industry is looking for a way to integrate voice to make smart home systems actually smarter.
Josh.ai ties touch panels, mobile device apps, and keypads with natural language to interact and control the smart home. Since 2017, the company has been quietly assembling the pieces of its technology, testing home automation integration, expanding the development team, (the company operates from LA and Denver), and of course, integrating with Amazon, Google, and Apple, as well as Crestron, Control4, and other home automation companies. In 2017, the company started shipping its software and server (the Home Base) and perfected mobile apps for control.
This year, as we expected, Josh.ai had one of the busiest booths at CEDIA, and we met with Alex Capecelatro, the CEO and founder of Josh.ai to find out about the updates. The main news is that Micro - its hardware programmable controller that runs the Josh.ai software, using far-field microphones for hands-free voice control - is now fully shipping and many partner companies are now providing flush-mounting installs, like they already do for Amazon Echos, for instance (Origin Acoustics kicked off the trend last year). More importantly, Josh is an exclusive product for the CEDIA channel and the entire pricing structure was designed to provide a margin for the installer. The efficiency depends upon the robustness of the whole network and proper configuration, so there's another important argument for that policy.
From voice and natural language, Josh is developing a full control system and "going beyond voice," the theme for this year's show. They updated the apps and introduced an artificial intelligence (AI) dashboard where the entire system can be integrated based on recommendations about privacy and security, energy management, health and wellness, and general entertainment. With this dashboard, the Josh intelligent agent is able to supervise the whole installation and provide information and recommendations to the user (e.g., the need to lower the blinds to avoid getting the house too warm because the sun is shining or to stop the music left playing in the living room). As the user interacts with the system, Josh will learn what is relevant or not for that particular user and how he prefers things to be.
The system is now able to completely interact with all sorts of devices, and enables users to maintain an overview of an installation the entire time, from anywhere. New for 2018, Josh is now able to manage entire audio and video infrastructure, using its own distributed platform, integrated with Savant, Crestron, and others on scene integration.
Another voice capability that will be introduced to smart speakers, soundbars, and perhaps TVs, is that of full duplex speakerphone operation. At home, we have Xfinity Internet, phone, and cable and when a phone call comes in there is a caller ID on the TV screen. Adding voice commands where the user can tell the system to put the caller on or can trigger the "videophone" operation directly on the TV, could have traction. We would also mention that the Xfinity remote control has located the mic in the remote control cutting the distance down to what should be a workable distance.
We worked with Limes Audio, a Swedish firm, which was an early developer of a full duplex solution for soundbars. Recently, it was acquired by Google so there is no mystery where this functionality will show up next.
With all these products just hanging on your every word (and perhaps passing too much back to their makers) is another issue. Vizio, Bose, and others have already been called out for being too generous in passing this "big data" back home (sort of reenacting the "call home" seen in ET?). These systems have a wake-up phase when you want to get their attention, but maybe a "get lost" phase is also needed. This big brother snooping for big data is under the guise of AI so that the system can self-tune to your habits and needs but there are other agendas also at work here.
At CEDIA 2018, immersive audio in the form of soundbars was also the mantra, while surround sound receivers were scarce and separates (preamps and power amps) were an endangered species. Creative had one of the most impressive demos at CEDIA 2018 with its X-Fi Sonic Carrier 15.2 high-resolution audio wide-array soundbar. The slim unit is a high-end lifestyle entertainment platform, powered by a whopping seven processors with 14 cores and able to generate a 11.2.4 speaker configuration in Dolby Atmos! There is also a continued resurgence of classic stereo gear but this stuff is not really what CEDIA is about.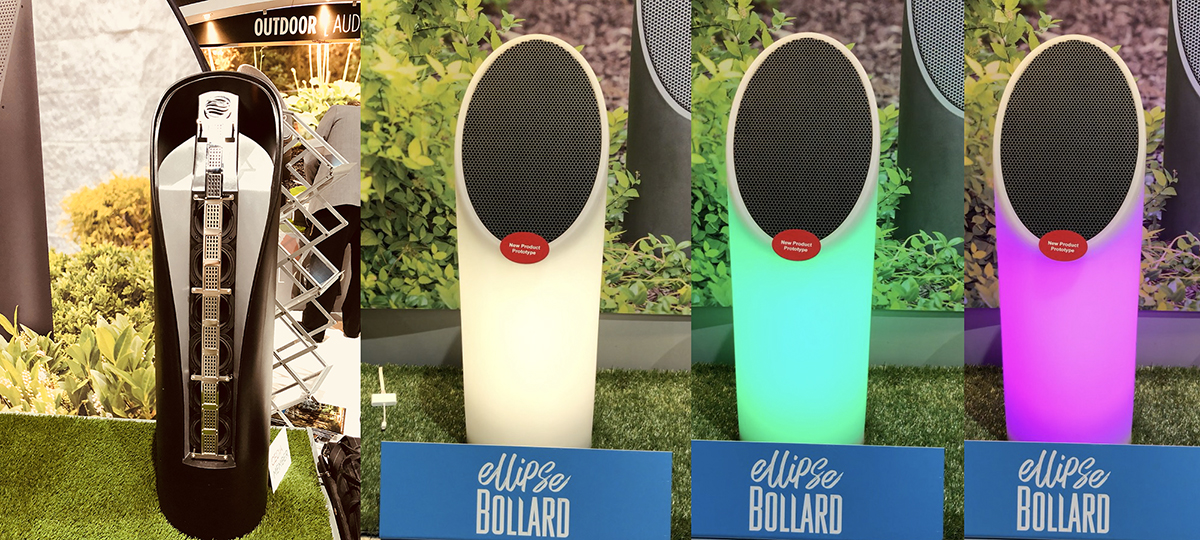 Meanwhile outdoor audio has also become a key category for most product lines, just as in-walls and ceilings speakers are. Outdoor audio product lines were very predominant at this year's show. These are all very similar, consisting of buried subwoofers and spotlight-shaped satellite speakers. The unexpected was to find companies now designing very high-end models, like Coastal Source's massive speakers using ribbon tweeters, and models also equipped with light-changing color LED surfaces. This was an obvious attention grabber at their booth, and it makes sense - get the outdoor audio and the garden lights all-in-one - and it's ready for parties. Another notable highlight was
AmbiSonic Systems' Wi-Fi-Bluetooth amplifier audio outdoor system
. We have had a decade where new construction and remodeling has been scarce and home owners are finally seeing their home worth as much or more than what they owe the bank. There is pent-up demand, and integration of next generation of in-walls, soundbars, whole house, and outdoor audio into the smart home control system is a no-brainer.
Coverage of the CEDIA 2018 is available
on the audioXpress website
as usual.
Register here to receive The Audio Voice weekly newsletter:
http://bit.ly/1ri0b4J