The CES Innovation Awards is an annual competition honoring outstanding design and engineering in consumer technology products. As in previous years, the Consumer Technology Association (CTA) announced the CES 2019 Innovation Honorees, including those products recognized as Best of Innovation Honorees, during the annual CES Unveiled event in New York. This year's nominees have a strong focus on sustainable and eco-friendly concepts. Audio products highlighted in the Innovation Awards include many surprises, including a Best of Innovation tube amplifier!
An annual program that celebrates outstanding design, the CES Innovation Awards recognizes Honorees across 28 product categories. An elite panel of judges, including designers, engineers and members of the tech media, review submissions based on design, functionality, consumer appeal, engineering and how the products compare with competitors. Products recognized as Best of Innovation received the highest ratings in their respective product categories.
All Honorees will be featured in the Innovation Awards Showcase at CES 2019. Already in October, 55 companies were announced as CES Innovation Honorees during CES Unveiled Paris and 31 companies were confirmed during CES Unveiled Amsterdam. All CES 2019 Innovation Awards Honorees and Best of Innovation Honorees are now confirmed and the full list available on the
www.ces.tech
page. But no need to rush.
audioXpress
compiled the list of the audio products and most innovative solutions featured for this year.
Best of Innovation Honorees for CES 2019
On the Best of Innovation Honorees for CES 2019 we can find the Harry Potter Kano Coding Kit, the "first-ever Harry Potter STEM product" and a build-it-yourself wireless wand that shows kids of all ages how to code and create - the winner in the Computer Accessories category. For the Computer Hardware and Components category, the winner was the Lenovo Yoga Book C930, a dual display laptop with E Ink which turns into a dynamic, customizable keyboard at the touch of a button.
There are less discussed categories, like Cybersecurity and Personal Privacy, where Dutch company Scalys BV was the winner with its TrustBox, a "high-grade secure router & IoT gateway for safe and trusted communication with the connected world." On Embedded Technologies, we find the Snips by Snips, an end-to-end embedded voice AI for connected devices that runs locally & offline, offering OEMs production-grade natural language and simple voice commands solutions without sacrificing brand identity, performance or user data.
Innoviz Technologies was the winner in Vehicle Intelligence and Self-Driving Technology with its InnovizOne Auto-Grade LiDAR and Computer Vision system, while the Plott LetsPlott is an augmented reality app and ecosystem that allows users to design new products with real world dimensions, images, videos, and links and export the results to the real world.
On Digital Imaging/Photography, the winner was Insta360, with the surprising Insta360 Pro 2, an all-in-one camera for 8K 3D VR and 360-degree capture using advance stabilization technology. On the more traditional side of Digital Imaging/Photography, there's the Leica BLK3D, a handheld reality capture device that produces easily shareable 2D images embedded with accurate 3D spatial data. The concept was designed by Leica Geosystems AG, part of Hexagon.
Other winners were obvious contenders, like the NVIDIA GeForce RTX 20-Series GPUs on the gaming category, or the LG V40 ThinQ from LG Electronics, the winner in the Wireless Devices, Accessories and Services category. There's also the "too-good-to-be-true" categories, where we can find the Heatworks Tetra Countertop Dishwasher in Home Appliances; the Robolink Zümi RoboCar in Robotics and Drones; the ZOMEKit for Apartment from ZOME Energy Networks, on the Smart Cities category; the Energysquare, Universal Wireless Charger for Laptops based on "Power by Contact" patented conductive charging technology, in the Smart Energy category; the Watergen Atmospheric Water Generator, the winner in the Tech For A Better World category; and finally the BeeLife CoCoon, a "2.0 beehive with active thermal system and IOT features," a way to fight climate change and an embedded treatment for the most dangerous bees killer – a truly deserving winner in the Sustainability and Eco-Design category.
Already on audio-related categories, we find Oticon, the surprising winner on the Software and Mobile Apps category with its Oticon KAIZN World's 1st Personal AI Assistant in Hearing Care. This is an app that learns about users' behaviors, hearing needs & sound preferences, prompting users to indicate needs in different sound environments & situations. Complementing hearing aids and hearables, the app can automatically optimize sound settings over time, where and when needed.
Among the nominated audio products for this year, we can find one winner that was predictable and well-deserved. That's Sony with its revamped and
much improved Sony WH-1000XM3 noise-cancelling headphones
. The newly acclaimed Sony 1000X member, the WH-1000XM3 offers comfort, sound quality, and upgraded noise cancelling performance.
A very unexpected winner is iHome with its AQUIO Bluetooth Waterproof Speaker Bottle in the Portable Media Players and Accessories category. AQUIO is a fashion inspired, double wall insulated, BPA free, stainless steel, hydration bottle and removable waterproof Bluetooth speaker.
And finally, there's the winner in the High Performance Home Audio/Video, Qoobi B.V., again with a very unexpected product, the Qoobi ONE tube audio amplifier. Qoobi B.V. is a Dutch audio-tech startup, founded in 2016 by three enthusiasts with the desire to create a company that could design, technically develop and produce high-tech audio devices – and they wanted to do it... with tubes. The Qoobi ONE is a wireless tube preamplifier that allows users to play digital music files from any source via Bluetooth. The surprising part is the design, inspired by "unforgotten school stereometry lessons, ice cubes in a glass of whisky, early works of Victor Vasarely, Hayao Miyazaki animation, Star Wars movies, cold and aloof Scandinavian electronic music as the January morning." A great description from the designers, which show a desire to break down stereotypes and make products that totally differs from everything that has been created in this class of devices. The Qoobi ONE seamlessly combines a sharp shape of metal polyhedron placed into a glass prism, with a body made of light alloy anodized aluminum which also works as a convection radiator for heated tubes and ensures stable and continuous operation. Excellent work.
CES 2019 Innovation Awards Honorees - Headphones
Apart from the products that have been considered The Best of Innovation Honorees, we have the remaining 28 product categories where we can find several audio companies and products.
In the Headphones category, we can find 1MORE with the Penta Driver In-Ear Headphones, Spearhead VR BT In-Ear Gaming Headphones, and the Triple Driver BT In-Ear Headphones. No wonder the Chinese maker is bragging about the fact that they are "the only headphone brand to win such distinction two years in a row." No doubt, the Penta Driver ($299), a new model to be available in early Q1 2019, the Triple Driver BT In-Ear ($199.99) and VR BT In-Ear ($129.99), both available now, are innovative, well-engineered products, available at prices that are hard to beat. 1MORE's new flagship model, the Penta Driver In-Ear Headphones (Penta Driver) provides dedicated features aimed at delivering sound quality, comfort, noise isolation, and functionality, with a universal appeal. The Penta Driver's also feature Type C to Type C giving users the choice of wired or Bluetooth listening.
Other headphone nominees include the Audeze Mobius Immersive Cinematic 3D Audio Headphone – a product that could very well have been the winner – together with the beyerdynamic LAGOON ANC, another strong candidate in the noise-cancelling market and a strong rival to Sony's WH-1000XM3 Headphones. Surprisingly, we also find the Swans AW-85 Digital Noise Cancellation Headphones, by HiVi Acoustics Technology, a new model with magnetic attraction wireless charging, high efficiency active digital noise cancellation, environment voice enhancement mode, multiple noise cancellation modes, aptX Bluetooth transmission, and many other arguments. Something to check out at CES 2019.
On the over-ear or on-ear classes, the CES 2019 Innovation Awards Honorees in the Headphones category include Master and Dynamic with its well-designed and extremely elegant MW07 True Wireless Earphones, and the Samsung AKG Y500 wireless on-ear headphones. Another nominated product targets a completely different market segment and is the
Rand McNally ClearDryve 200 for truck and professional drivers
.
Onanoff Limited, a Chinese company that is a new contender in products for children, was nominated twice with the BuddyPhones PLAY volume-safe headphones that also include StudyMode, a first-to-market setting that enhances learning by making vocals clearer, and more comfortable to listen to; and the Onanoff StudyPhones, designed for the education market and modern workplaces, also featuring vocal optimization to enhance listening to spoken audio content for long periods of time.
On the in-ear segment, 2019 Innovation Awards Honorees include four other models that audioXpress recently highlighted for its feature set and innovative designs. The four nominees include the
Plantronics BackBeat FIT 3100
; the
Phiaton BOLT BT 700 with its innovative charging speaker case
; the JLab Audio Epic Air Elite True Wireless Sport Earbuds; and
the latest Jaybird Tarah Pro
.
CES 2019 Innovation Awards Honorees - Home Audio and Audio Components
We can also find innovative nominees in the audio categories High Performance Home Audio-Video and Home Audio-Video Components and Accessories. In the first category, we find the first "traditional" home speaker to be nominated this year, and its Danish brand DALI with the CALLISTO speakers, which feature a choice of their own developed active bookshelf or tower speakers that wirelessly connect to the DALI Sound Hub. Along with built-in Bluetooth aptX HD connectivity, the Sound Hub can be upgraded with an optional BluOS module running hi-res multiroom audio and music.
Other nominated home speakers, less traditional in its design and features, are the Swans 2.2A Ultimate Intelligent Active Speaker System by HiVi Acoustics. This is an "intelligent active stereo speaker system," which can be considered an integrated solution, combining innovative features such as an intelligent voice input and speaker separation design, convex linear sound source, DSP active filter, complete audio input interfaces, wireless Internet cloud media access, and built-in 1800W 6-channel power amplifiers. And HiVi got a second nomination with the Swans MX1 Intelligent Wireless Active Speaker System, a large tower array active speaker system which also combines "intelligent wireless Wi-Fi, intelligent voice interactive control, DSP active filter technology," and 700W digital amplifiers in a unique and stylish appearance configuration.
In that same High Performance category we find the
recently announced Mark Levinson № 5805 Integrated Amplifier
; the Nakamichi Shockwafe Ultra 9.2 SSE Atmos Soundbar System, a 9.2-channel Dolby Atmos soundbar with 2 wireless subs and 4 modular surround speakers that use Nakamichi's Spatial Surround Elevation processing engine for cinema-grade room environments; the Rendezvous/Ultra High Resolution AV Streamer by AdongVRF; and the already discussed winner Qoobi ONE wireless tube preamplifier.
On the Home Audio-Video Components and Accessories category we find some more original solutions, such as the 4-bay HS-453DX 10GbE SilentNAS with SSD and HDMI 2.0 from QNAP Systems, a silent 10GbE multimedia NAS solution with dual M.2 SSD acceleration, 4K HDMI 2.0 video playback, and real-time transcoding capability, powered by a quad-core Intel processor. This fanless design allows users to enjoy media playback, file backup and sharing with no distractions.
There's also a giant-screen LED TV, the Konka 98/86 A1 Series, which is not only thin but actually features a horn sound system, and was design to be the center of a home theater. On the unavoidable smart speaker category, we have Cleer with the Cleer CONNECT Smart Display Speaker, designed to work with voice interfaces and featuring an 8" display, camera, and stereo sound. And on the wireless speaker front we have the GoldenEar DigitalAktiv 3, an ultra-high-performance compact powered wireless bookshelf loudspeaker housed in a beautiful hand- polished piano-black monocoque cabinet, combining a 6" cast-basket Reference bass/midrange drive, a Reference HVFR tweeter and two inertially balanced 8" passive radiators.
Otherwise, we have also less traditional "audio-related" products, such as the Hercules DJControl Inpulse 300 mixing surface; the Dlogixs Puck, a portable healthcare Bluetooth speaker which also comes with special sleep earphones designed exclusively to support better sleep (!); the Quidbox TBEE set-top-box and connected entertainment system with gestures and voice interfaces; the IOGEAR Ultra-Fast 60GHz Wireless 4K UHD Video Extender, a wireless AV solution enabling the transmission of 4K Ultra HD video (3840x2160) and high-quality digital 7.1 surround sound audio from an HDMI source over distances up to 60 feet with near-zero latency; and finally the Wi-Charge Wireless Power Kit for Amazon Echo and Google Home, which transforms those affordable smart speakers into a completely wire-free product.
CES 2019 Innovation Awards Honorees - Car, Portable, Wireless, and other Categories
In the In-Vehicle Audio-Video category, there's only one audio product to speak of and it's the notable
Focal Utopia M 3 way system
, an aftermarket car-audio speaker kit that contains a 32mm M beryllium tweeter, 6.5" M sandwich woofer and 10" M sandwich subwoofer.
In the Portable Media Players and Accessories category, we already mentioned the iHome AQUIO Bluetooth Waterproof Speaker Bottle, which was considered Best of Innovations this year. But iHome also got nominated with the Portable Waterproof Speaker with LEDs and Voice Control, a portable speaker with unique tactility and color changing LEDs to complement the music, compatible with Siri, Google Assistant and Alexa.
On the always prestigious Tech for A Better World category, we can find a product that is voice related and reflects a growing market trend, towards translation solutions. This year, the nominated product from iFLYTEK, the Translator 2.0, proposes "a new generation of artificial intelligence translation product," that supports translation modes such as dialogue translation, photo translation and human translation. It provides services such as oral English learning and global Internet access.
On the Wearable Technologies category, we can also find a translation product, the Pilot Translating Earpiece from Waverly Labs that allows users to understand and interpret up to 15 languages. This earpiece is said to use the latest technologies in speech recognition, machine translation and wearable technology.
Another translation-related product is included in the Wireless Devices, Accessories and Services category. The WT2 Plus Real-time Earphone Translator, from Shenzhen Timekettle Technologies, is announced as "the first "1+2" AI-powered translation system (1 app controls 2 earphones) in the world." By integrating industry-leading voice algorithms and machine translation technology, WT2 Plus claims to deliver "hands-free and natural communication experience in foreign languages."
On the Wireless Devices, Accessories and Services category, we also find another speaker. This time, is the 0W1 Smart HiFi Audio Speaker (0W1 audio), which is described as "the first truly High-End Connected Portable Audio system," and embeds "a bunch of Music-centric contextual experiences." The 0W1 Audio D5 is said to offer "much more than just another wireless speaker," and we will need to check it out at the show.
And this category also includes the Solo (Bidirectional HQ Bluetooth transmission headset) from Sabinetek, which is described as a "real-time bidirectional Bluetooth Smart Karaoke headset," which works with any music app and allows real-time mixing of voice with music — with or without original singer's vocal. The mixed audio is transferred to the mobile phone in real-time.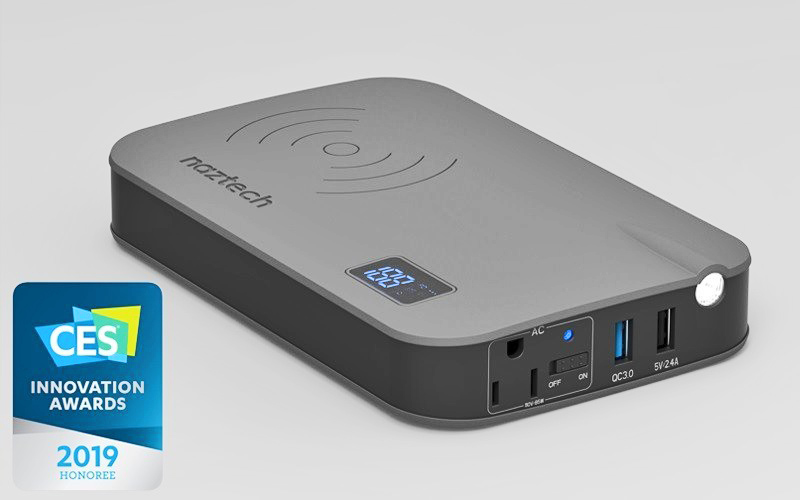 Finally, in the same category, we would like to highlight the remarkable Naztech VOLT MAX Portable AC Power Station, the world's most powerful and versatile portable charger to-date. The VOLT MAX is a massive 27,000mAh multi-charging portable power bank encased in a uniquely light, compact ABS chassis. Equipped with five different ways to connect and charge simultaneously, the potent portable battery comes equipped with an 85W AC outlet, Qi-charging technology and three high-speed USB ports, including an 85W USB-C PD port and a Qualcomm Quick Charge port compatible with Fast Charge-enabled devices. Designed for international travel, the VOLT MAX also accommodates a broad input/output AC range to match worldwide voltage requirements.
And the Sustainability and Eco-Design category also includes a speaker, obviously from House Of Marley, the first FSC certified consumer electronics brand within the United States. The company was nominated with the recently launched, No Bounds XL cork crafted Bluetooth speaker. The speaker is crafted using sustainably harvested cork, Marley's signature REGRIND silicone, recyclable aluminum and REWIND fabric composed of 100% recycled plastics (rPET). The rugged, buoyant and waterproof (IP67) speaker is the largest in the all-terrain No Bounds speaker series. With a 16-hour battery life and a quick charge time of only two hours, the XL acts as a power bank for any smartphone or other USB powered device.
We also need to mention, in the Gaming category, the nomination of the Creative Sound BlasterX G6 USB sound card. Following the double Innovation Awards Honoree wins for Sound BlasterX AE-5 at CES 2018, the Sound BlasterX G6 provides a performance level that is consistent across all platforms, regardless of whether one is gaming on PS4, Xbox One, Nintendo Switch or PC. The Sound BlasterX G6 is versatile enough to be a hardware Dolby Digital decoder, creating essentially limitless virtual surround channels for headphones and speaker systems. It also offers best-in-class audiophile-grade playback of standard and hi-res content with up to 32-bit/384kHz content with 130dB of dynamic range. It also stands out as a portable DAC/AMP with Xamp proprietary bi-amplification, which powers each earcup separately for smooth and accurate distortion-free playback.
Another nominee in the Gaming category was Sound Research, with their High Dynamic Range (HDR) gaming soundbar, designed in collaboration with HP's OMEN gaming design team. This soundbar produces a bass response as low as 30Hz and features Sound Research's vibration reduction technology (VRT) that reduces speaker enclosure vibration, important when pairing a speaker with high resolution gaming displays.
Finally, we can find Phonak in both the Accessibility and 3D Printing categories of the CES 2019 Innovation Awards, with two interesting products, the Phonak Audéo Marvel and Phonak Virto B-Titanium. Announced in October 2018, Phonak Audéo Marvel is a universal Bluetooth hearing aid that fully supports direct stereo audio streaming from Android as well as iOS (iPhones.) This provides direct streaming access to smartphone owners who – for some reason – have to utilize Android. This is possible because Marvel hearing aids utilize Bluetooth Classic to connect with Android, iPhone, and billions of other Bluetooth devices. This is effective in terms of data rates for short distances when compared with Bluetooth Low Energy. Users just need to make sure they keep their devices always in their pockets. The Phonak Marvel hearing aids are rechargeable, giving wearers a full day of hearing, including streaming, on a single charge, Phonak states.
The Phonak Virto B-Titanium is the world's first 3D-printed titanium hearing aid designed and engineered with discretion in mind. The shell is made of medical grade titanium, making it 15x stronger, 50% thinner, and up to 26% smaller compared to standard acrylic shells. A thinner shell gives 3D modelers more real estate for electrical components and venting. It also enables a deeper placement in the ear canal, resulting in a virtually invisible fit.
CES 2019, the world's largest and most influential technology event, will showcase new products and technologies across every major industry, featuring 4,500 exhibitors across 2.75 million net square feet of exhibit space. CES is the world's gathering place for all who thrive on the business of consumer technologies. Owned and produced by the Consumer Technology Association (CTA), it attracts the world's business leaders and pioneering thinkers. CES 2019 returns to Las Vegas January 8-11, 2019.
www.CES.tech