During the second day of the annual Snapdragon Technology Summit, Qualcomm unveiled its newest generation Qualcomm Snapdragon 855 Mobile Platform. This is the world's first commercial mobile platform supporting multi-gigabit 5G, the latest AI and immersive extended reality (XR) technologies, ready for the next-generation mobile devices in the first half of 2019. The flagship platform also introduces support for
the new aptx Adaptive
and TWS+ wireless audio experiences.
Using new chip architectures built on leading 7nm process technology, Qualcomm's Snapdragon 855 is not only the first commercially available 5G platform for smartphones but it also offers long-lasting battery life and superior experiences in areas such as imaging, audio, gaming and XR.
"As operators launch 5G networks in early 2019, consumers will for the first time be able to take advantage of transformative 5G consumer experiences on mobile devices with Snapdragon 855," says Alex Katouzian, senior vice president and general manager, mobile, Qualcomm Technologies, Inc. "We are proud to share our technology inventions and be among the first to bring mobile 5G to the world."
The Snapdragon 855 Mobile Platform will unleashe transformative 5G experiences to the world, with the Snapdragon X50 5G modem, while harnessing the best in multi-gigabit 4G connectivity with the built in Snapdragon X24 LTE modem. With Snapdragon X50, this platform supports 5G for both Sub-6 GHz and mmWave frequency bands, providing blazing-fast responsiveness and unprecedented speeds. It is designed to deliver Multi-Gigabit speeds that were previously unachievable in mobile communication. In mmWave frequency bands, users can expect up to 20x faster average performance compared to some of the current commercial solutions, to master the extreme data demands of today and pave the way for next-generation immersive experiences, including multiplayer VR gaming, shopping with AR, and real-time video collaboration.
Snapdragon 855 also offers powerful next generation Wi-Fi performance via the Qualcomm Wi-Fi 6-ready mobile platform, including advanced features like 8x8 sounding to serve more devices more efficiently (up to 2x improvement over 4x4 sounding devices), Target Wakeup Time for up to 67% better power efficiency, and the latest security with WPA3. Snapdragon 855 also supports mmWave Wi-Fi, utilizing the Qualcomm 60 GHz Wi-Fi mobile platform. This industry first 802.11ay-based platform takes Wi-Fi speeds up to an unprecedented 10 Gbps and brings wire-equivalent low latency.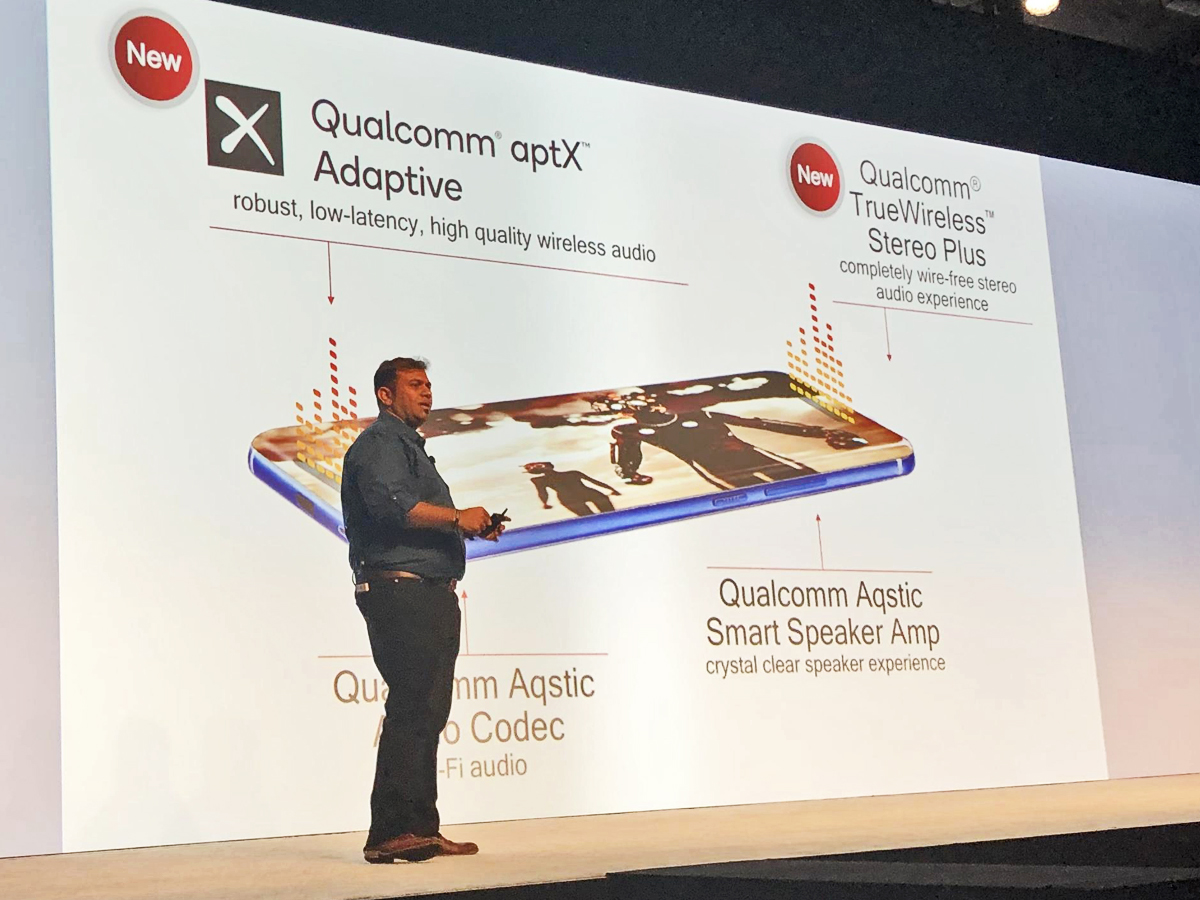 On the audio front, Snapdragon 855 also enhances its support for Qualcomm TrueWireless Stereo Plus technology to meet growing demands in the Bluetooth 5 headset and hearables markets for truly wireless devices by optimizing for low latency between left and right earbuds as well as lowering the power consumption allowing longer listening time per battery charge. And the audio experience has been upgraded with the new Qualcomm aptX Adaptive audio codec, designed to provide the ultimate wireless listening experience by combining robust premium audio quality with significantly lower latency for gaming and multimedia applications.
The new platform is based on the latest Qualcomm Kryo 485 CPU built on Arm Cortex technology, offering up to a 45% performance improvements over Qualcomm's previous generation flagship platform. The new Qualcomm Adreno 640 GPU provides up to 20% faster graphics than the previous generation, with support of Vulkan 1.1, high dynamic range (HDR), and physically based rendering (PBR). It also features the 4th generation multi-core Qualcomm AI Engine, which offers a total capacity of more than 7 trillion operations per second (7 TOPs), and 3x the AI performance compared to the previous generation mobile platform.
The expanding roster of AI software collaborators taking advantage of 4th Gen Qualcomm AI Engine capabilities now includes AI Speech, AnyVision, iFlytek, Elevoc and Nalbi. In addition, Snapdragon 855 brings a more advanced on-device Voice Assistant using dedicated AI acceleration for echo cancellation and noise suppression.
The enhanced cinema experience will also enable HDR10+ and 4K 60fps playback – a commercial first on mobile. Users can also watch more movies on a single charge, as newly introduced hardware accelerated H.265 and VP9 decoding offers higher energy efficiency. And the Snapdragon 855 also enables volumetric virtual reality (VR) immersive video experience at 8K resolutions.
Finally, the Snapdragon 855 is the first mobile platform to support the new Qualcomm 3D Sonic Sensor, the world's first commercial ultrasonic fingerprint solution supported under the display. This is the only mobile solution that can accurately detect fingerprints through numerous contaminants.
The Snapdragon 855 Mobile Platform is currently sampling to manufacturers and is expected to begin shipping in commercial devices in 1H 2019.
www.qualcomm.com/snapdragon