Following the huge popularity of the 500 rack format in recent years, hundreds of small companies have thrived designing boutique modules for the modular solution - which also prospered with the expansion of home and project studios into higher quality analog audio circuits.
Having started as a format designed by Automated Processes Inc (API) for modular consoles in the 1970s, the 500 series "standard" was initially pushed by companies such as dbx, Aphex and other well-known companies. Since the current API initiated the VPR Alliance (http://apiaudio.com/vpr_alliance.php) in 2006, which allowed other companies to develop compatible modules for their 500 series rack system (the Lunchbox), even big names in professional audio have adopted the design to expand their market reach. Recently we have seen a series of new announcements and this one from British manufacturer SSL is certainly a significant one.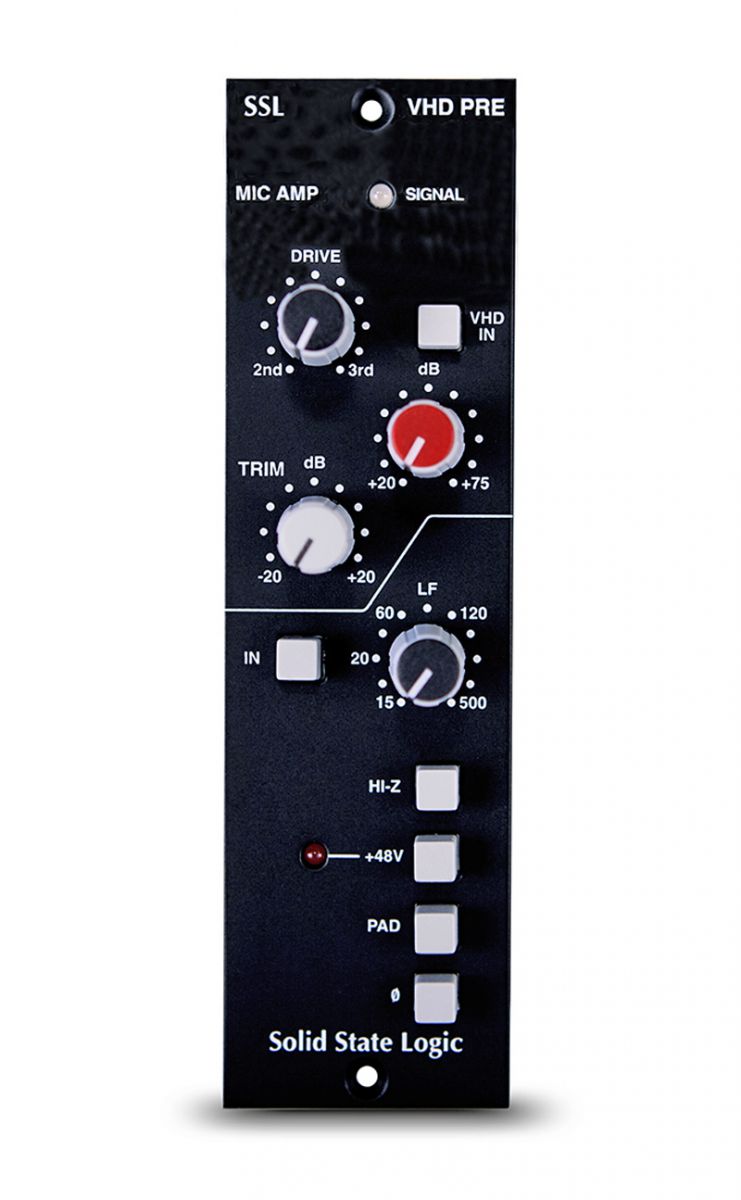 The VHD Pre is an immensely versatile recording and processing device. It can deliver ultra clean SSL SuperAnalogue grade recordings but also features a switchable VHD mode. SSL's patented Variable Harmonic Drive (VHD) system uses a 100% analogue signal path to generate rich harmonic distortion. As the VHD input gain increases, the Variable Harmonic Drive process introduces either 2nd or 3rd harmonic distortion or a blend of the two to your source material.
In SSL own words, "At lower gain settings it adds gentle valve-style warmth or a touch of transistor edge. As the gain is increased the more extreme the distortion becomes until at high gain settings it delivers fierce trashy transistoresque grunge. The VHD Pre gives the user ultimate versatility from a studio grade preamp. Whether it's ultra-clean traditional SSL, subtle warming or totally trashy transistor distortion, VHD will change your expectations of what a preamplifier should deliver."
The VHD section of the VHD Pre Module has three rotary controls: a Drive control selects 2nd harmonic or 3rd harmonic distortion or a continuously variable blend of the two. A +20/+75dB gain control sets input level. A -20/+20dB trim control adjusts the output level from the circuit to enable level matching with other devices, because by its nature the VHD circuit can significantly increase signal levels.
The VHD Pre Module has a selection of other essential professional preamp features: a signal present LED, a switchable 15Hz to 500Hz LF Filter section, Hi-Z impedance switch for mic impedance matching, +48V phantom power, PAD to enable the VHD system to be used as a line level processing device and a Phase Invert Switch.
Apart from the famous SSL Duality consoles, the same SSL VHD technology is available in the XL-Desk, X-Rack VHD Input Module and the (1U rack) VHD Pre units. The VHD Pre Module will be available from March 2015 priced at $649 (£399 or €500 + VAT).
solidstatelogic.com